KBS Research News
| | | | |
| --- | --- | --- | --- |
| CNS Internship Spotlight highlights KBS URA experience | | | |
| | | | |
| --- | --- | --- | --- |
| MSU geological sciences professor named 2015 Soil Science Society of America Fellow | | | |
Michigan State University Geological Sciences Professor and KBS Faculty member Bruno Basso was recently elected a 2015 Fellow of the Soil Science Society of America (SSSA) for his outstanding contributions to agronomy through education, national and international service, and research. Read more at MSU CNS News.
| | | | |
| --- | --- | --- | --- |
| Grant to help increase biofuel yield while limiting fertilizer use | | | |
Michigan State has netted a $5 million grant from the U.S. Department of Energy to better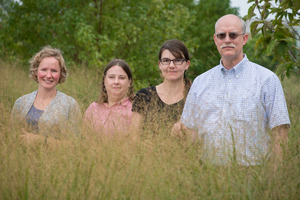 understand how biofuel crops acquire nitrogen, insights that could help maximize yields while minimizing fertilizer use.

Sarah Evans, an integrative biologist at MSU's Kellogg Biological Station, and a team of MSU colleagues will study how plants interact with microbes living near their roots to obtain nutrients, especially biofuel crops growing in abandoned farmlands, or marginal lands. Read more at MSU Today.
| | | | |
| --- | --- | --- | --- |
| MSU Today highlights KBS research on biofuel crops' water consumption | | | |
Converting large tracts of the Midwest's marginal farming land to perennial biofuel crops carries with it some key unknowns, including how it could affect the balance of water between rainfall, evaporation and movement of soil water to groundwater.
A recent study from the Great Lakes Bioenergy Research Center and published in Environmental Research Letters looks at how efficiently "second generation" biofuel crops – perennial, non-food crops such as switchgrass or native grasses – use rainwater and how these crops affect overall water balance.
Read the MSU Today article here.
| | | | |
| --- | --- | --- | --- |
| MSU professor Gary Mittelbach honored as fellow of the Ecological Society of America | | | |
Gary G. Mittelbach, Michigan State University professor of integrative biology, has been named a 2015 fellow of the Ecological Society of America (ESA) . Mittelbach, who is located at MSU's W.K. Kellogg Biological Station (KBS), is one of 24 fellows of the society who are being recognized this year for distinguished contributions to ecology. The ESA works to promote ecological science by improving communication among ecologists, raising public awareness and increasing the resources available for ecological research.
"As a graduate student, I joined the Ecological Society of America back in the late 1970s – it was my first professional society," said Mittelbach, who will be recognized at the ESA annual meeting in Baltimore in August.  "To be recognized now as an ESA Fellow is a terrific honor and a milestone in a career I've been lucky enough to enjoy here at MSU."
On a local scale, Mittelbach and his students study fish and other aquatic organisms in Michigan lakes and ponds.  At broad geographical scales, he works collaboratively with a group of ecologists, evolutionary biologists and paleontologists to address such fundamental question as why the diversity of life is so much greater in the tropics as compared to the temperate zone. Mittelbach is the author of the textbook, Community Ecology , published in 2012 by Sinauer Associates.
"I have been following Gary's research for almost 35 years, since we were both grad students, and I know that his work has earned him global recognition as a leader in the field of community ecology," said Thomas Getty, professor and chair of the MSU Department of Integrative Biology. "It is amazing what Gary has achieved on the global stage, based on his work at a little field station near Hickory Corners, Mich. Congratulations to Gary!"
"Gary Mittelbach has been a leading figure in the field of community ecology for nearly 30 years," added KBS colleague Doug Schemske, professor of plant biology. "His contributions to research and teaching have been instrumental in building the status of MSU as one of the leading institutions in the world for the study of ecological processes. He is richly deserving of recognition as ESA fellow."
<<

Start

<

Prev

1

2 3 4 5 6 7 8 9 10 Next > End >>


Page 1 of 14