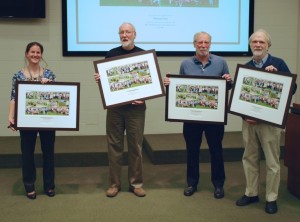 The K-12 Partnership has included schools from many districts in Southwest Michigan, over 300 teachers, administrators, advanced graduate students pursuing degrees at KBS, and MSU science faculty from KBS and science-teaching faculty from the College of Education have participated.
Partnership Coordinator
Kara Haas, Science Education & Outreach Coordinator
Heather Kittredge & Dustin Kincaid
Fall 2016: Tyler Bassett and Sara Garnett
Perks of participation
Teachers from participating districts have the opportunity to participate in 5 professional development days a year (3 summer, 1 fall, 1 spring). Substitute costs are reimbursed for participants attending spring and fall events. Summer attendees receive a daily stipend. All events are held at the Kellogg Biological Station in SW Michigan. Look online for past workshops.
Invite a Scientist to visit your classroom: KBS-based graduate students in ecology, evolutionary biology and behavior serve as 'fellows' with the Partnership and are available to visit classrooms to facilitate or assist with one of the many lesson plans created over the years through the Partnership.
Sometimes the Partnership engages in broader research projects to understand and improve science education. These research projects offer teachers unique opportunities to change education for the future. We are currently participating in two projects: Carbon TIME led by Dr. Andy Anderson and Teaching Science Outdoors (TSO) led by Dr. Tali Tal and MSU's CREATE for STEM Institute.
Who from your district can participate?
We have space for 75 teachers at each workshop, about 6 teachers from large districts and 1-4 teachers from smaller districts. For elementary teachers, priority will be given to those that have participated in the Teaching Science Outdoors program.
If you are interested in being considered as a partner school/district, please contact Kara Haas to start a conversation.
Participating Districts 2016-17
Battle Creek, Bloomingdale, Comstock, Delton Kellogg, Detroit, Gobles, Grand Rapids Christian, Gull Lake, Harper Creek, Kalamazoo, Lakeview, Lawton, Martin, Parchment, Plainwell, Thornapple Kellogg, Vicksburg
2015 Summer Institute Participants
2015 November Workshop Participants
2016 Spring Workshop Participants
Participant List – Summer Institute 2016
K-12 Partnership Steering Committee members (2015-16): Kara Haas, Kay Gross, Andy Anderson, Sarah Bodbyl Roels, Jake Nalley, Tyler Bassett, Kim Sandefur (Comstock), Beck Drayton (Gobles), Marty Buehler (Hastings), Jody Lugar-McManus (Parchment)
MSU Staff and Faculty Partnership Collaborators
GK-12 Co-Director (Co-PI) and Professor
Department of Teacher Education
Post-doctoral Researcher, Project Manager (Co-PI) for KBS GK-12 Project, and network coordinator for CarbonTIME
Kellogg Biological Station and Teacher Education
GK-12 Co-Director (Co-PI) and Professor
Kellogg Biological Station and Department of Integrated Biology
Steering Committee Science Lead
Kellogg Biological Station Director
Long Term Ecological Research Project Director
Department of Plant, Soil and Microbial Sciences
Kellogg Biological Station