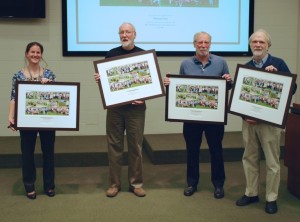 The K-12 Partnership has included schools from many districts in Southwest Michigan, over 300 teachers, administrators, advanced graduate students pursuing degrees at KBS, and MSU science faculty from KBS and science-teaching faculty from the College of Education have participated.
Partnership Coordinator
Kara Haas, Science Education & Outreach Coordinator
Heather Kittredge & Dustin Kincaid
Have questions?  Send us an email!
Kara Haas, Science Education & Outreach Coordinator
Dustin Kincaid, Science Education Fellow 2016-17
Heather Kittredge, Science Education Fellow 2016-17
Misty Klotz, Community Outreach Assistant
Fellows Fall 2016: Tyler Bassett and Sara Garnett
K-12 Partnership Steering Committee members (2015-16): Kara Haas, Kay Gross, Andy Anderson, Sarah Bodbyl Roels, Jake Nalley, Tyler Bassett, Kim Sandefur (Comstock), Beck Drayton (Gobles), Marty Buehler (Hastings), Jody Lugar-McManus (Parchment)
MSU Staff and Faculty Partnership Collaborators
GK-12 Co-Director (Co-PI) and Professor
Department of Teacher Education
Post-doctoral Researcher, Project Manager (Co-PI) for KBS GK-12 Project, and network coordinator for CarbonTIME
Kellogg Biological Station and Teacher Education
GK-12 Co-Director (Co-PI) and Professor
Kellogg Biological Station and Department of Integrated Biology
Steering Committee Science Lead
Kellogg Biological Station Director
Long Term Ecological Research Project Director
Department of Plant, Soil and Microbial Sciences
Kellogg Biological Station