Date/Time
Date(s) - 03/26/2018
7:00 pm - 9:00 pm


Download Event iCal
Location
Auditorium (312)
Categories
Featuring Dr. Catherine Lindell (MSU Associate Professor, Integrative Biology Department)
and Dr. Phil Howard (MSU Associate Professor Dept. of Community Sustainability)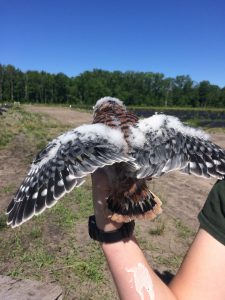 "Lifting the economy on hawks' wings" article, NSF, May 5, 2018
The American kestrel, North America's smallest falcon, is native to Michigan but has had declining populations in recent decades. Can we increase kestrel populations and help grow fruits with fewer chemicals? Find answers to this complex question at our next Dessert with Discussion.
• Kestrels nesting in orchards deter fruit-eating birds, providing economic benefits for farmers and the state of Michigan.
• Kestrels can be attracted to cherry orchards and blueberry fields by installing nest boxes.
• Installing nest boxes may also be beneficial to kestrels, whose populations have been declining for several decades.
• Consumers view nest boxes as more "natural" than other bird management practices (such as spraying food-safe chemicals that might repel birds from eating fruit).
• Consumers report a willingness to pay approximately 20% more for fruit produced using nest boxes, therefore communicating these production practices may result in higher prices, or at least market niches, for growers.
Enjoy coffee, tea and delicious locally sourced desserts provided by the KBS Conference Center. A cash bar featuring house wines and Michigan craft beer available prior to the event.
Doors open at 7 p.m., talk from 7:30-8:30 p.m.
Curious to learn more?  Article, "Kestrels thrive in cherry orchards, and return favor" (Capital News Service, November 17, 2017) and Nature can reduce pesticide use, environmental impact (MSU NatSci News. March 1, 2018).
---
Visit informational booths before and after the talk to learn more!
Environmental Science and Policy Program at MSU
KBS – Insights to Research at KBS
Southwest Michigan Group Sierra Club
Live stream available the night of the event via Zoom. Click here for details.
Recording of the evening's live stream.
Live stream participants will need to download Zoom in order to participate.  Find out more about Zoom.  Problems with Zoom audio?
If you have never used zoom, and you are MSU student, faculty or staff, you should first log onto https://msu.zoom.us to establish an MSU Zoom profile. If you have never used zoom, you should open the link above and follow the prompts to install Zoom client long before the seminar starts. If you plan to watch the KBS seminar series webcast periodically, it will be most convenient for you to save the link above as a bookmark or favorite. Note that the webcast is intended for viewing only and you should mute your camera and microphone if you have either.
To dial into the seminar from a meeting room with video conference hardware (like Nat. Sci. 105) you should dial "35.8.14.49##7202086207". If the system is uncooperative in that type of dialing, dial 35.8.4.49 and when prompted, use the video conference remote control (i.e. Polycom remote) to dial the meeting number 7202086207 when prompted.
To remotely ask questions during the seminar notify KBS Computer Services Helpdesk beforehand.
At KBS we make a practice of webcasting the KBS Seminar series. However, it is not a public presentation because copyrighted materials might be used, or proprietary information might be presented that is only for consumption at MSU.
---
Past Dessert with Discussion Presenters
At MSU's Kellogg Biological Station green is more than a school color. You can help us be sustainability responsible for this event by:
Carpool or ride your bike to the event.
Traveling from a distance, watch the live stream instead.
Reduce food waste by taking smaller portions and going back for seconds if needed.
Thank you for being part of this commitment!