Date/Time
Date(s) - 04/18/2017
8:00 am - 4:00 pm


Download Event iCal
Location
Auditorium (312)
Categories
The 2017 Spring K-12 Partnership Workshop is right around the corner!  Join us at KBS on April 18, 2017 to learn  what is happening at the cutting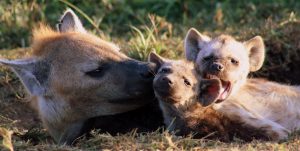 edge of research in ecology and evolution.  In keeping with this idea, the theme this spring will be The Kellogg Edge: breaking boundaries in ecology and evolution education.  This year KBS celebrates 90 years and we plan to continue our tradition of excellence with a full day of sessions featuring cutting edge technologies and forward thinking research. This includes an exciting plenary talk by MSU Distinguished Professor of Integrative Biology, Dr. Kay Holekamp. For almost 30 years now Dr. Holekamp has been dedicated to studying the behavioral ecology and evolution of Hyenas in Kenya.  If you want to learn more about Spotted Hyenas or other research in the Holekamp lab, you can check out the Holekamp lab website and join us on April 18th to hear about The Evolution of Intelligence in Mammalian Carnivores!
This spring workshop we will also feature several new sessions, including an  introduction to the MultiSpeQ, a cool new device that measures photosynthetic rates in the classroom.  In addition, we will have a session that uses batteries to model how electric fish have evolved the ability to put out an electric charge.  Do not miss out on attending these exciting sessions and more. Sign up today for the 2017 Spring workshop!
Who: K-12 teachers
When: Tuesday, April 18, 2017 from 8am-4pm
Where: Auditorium, Kellogg Biological Station, 3700 East Gull Lake Dr., Hickory Corners, MI 49060
What: Tentative Agenda
SCECHs: 6 SCECHs
Costs: Program is FREE. Sub costs will be reimbursed for Fall and Spring workshop participants. One form per school building/district. Form can be found here: http://www.kbs.msu.edu/outreach/kbs-k-12-partnership/workshops-and-institutes/. Please return the form with an INVOICE from your school district. Invoice must include the name of the teacher, name of the sub and the pay rate. Email (karahaas@msu.edu) or mail to Kara Haas, KBS, 3700 East Gull Lake Drive, Hickory Corners, MI 49060.
Workshop coordinated by Heather Kittredge, 2016-17 KBS K-12 Partnership Fellow
New to the Partnership?  Learn more here.