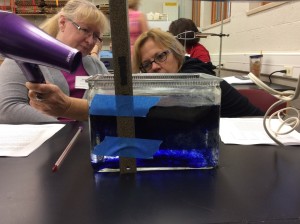 School-year workshops and a three day summer institute held at KBS provide science teachers deeper exposure to science content and methods as well as support for inquiry-based science teaching in the K-12 classroom. Sessions are led by KBS scientists and MSU College of Education Faculty and are open to all science teachers in Partnership districts.
Workshop and institute topics are chosen for their relevance to the Michigan Core Curriculum and the new Next Generation Science Standards. Teachers suggest topics to be covered, and sessions often cover subjects that are difficult for students and cut across the biological, physical, and earth sciences. Recent topics have included nutrient cycling, biodiversity, climate change, invasive species, and wetland ecology. Workshops and institutes also provide time for teachers to work across school districts (within grade levels) to share inquiry-based teaching strategies, and within districts (across grade levels) to coordinate delivery of the district's science curriculum.
Sub-cost Reimbursement Voucher Form_2015-16
Dates coming soon for fall, spring and summer 2017 events.
2016 - 2017 Workshops
2015 - 2016 Workshops
Tuesday, Nov. 10, 2015 – Climate Change – Agenda

Register online: https://kbsmsu.wufoo.com/forms/kbs-k12-partnership-registration/ by Friday, October 30. Space is limited to the first 75 registrants.

Summer Institute: Wednesday, Aug. 5-Friday, Aug. 7 – Big Data and Citizen Science – 2015 Agenda_K-12 Partnership Summer Institute_final
2014 - 2015 Workshops
2013 - 2014 Workshops
2012 - 2013 Workshops
2011 - 2012 Workshops
2010 - 2011 Workshops
2009 - 2010 Workshops
Summer 2009: MSP Summer Institute: Enhancing Environmental Literacy in Carbon, Water, and Biodiversity
Speaker: Jennifer Lau (MSU)
Speaker: Doug Landis (MSU)
2008 - 2009 Workshops
November 3, 2008: Evolution in Action

Speaker: Robin Tinghitella, Rapid Evolution
Speaker: Jonathon Schramm, Schoolyard Biofuels Plots

December 8, 2008: Anthropogenic Influences on Wildlife

Speaker: Dr. Jack Liu, Human Impacts

February 24, 2009: Winter Ecology

Speaker: Dave Mahan, Winter Ecology

April 23, 2009: KBS Science for your Classroom

Speaker: Elena Litchman, Water quality and harmful algal blooms in the changing climate."
Summer 2008: GK-12 Summer Institute
Speaker: Dave Costello (Notre Dame), Earthworm Presentation
Speaker: Kay Gross (MSU), Current KBS and KBS LTER Research
2007 - 2008 Workshops
October 29, 2007: Ecology of Emerging Infectious Diseases

Speaker: Jean Tsao, Lyme Disease
Speaker: Laurel Hartley, Reduction in Dengue Fever in the Mekong Delta through Student Activism

December 6, 2007: Ecological Change in the Great Lakes

Speaker: Lisa Wininger, Physical Oceanography and the Maury Project
Speaker: Alan Steinman, Ecological Change in the Great Lakes Region.

December 7, 2007: Wildlife and Human Health (Follow-up to Oct. 29 Workshop)
December 8, 2007: Curriculum Revision Workshop for Smithsonian Lessons
February 26, 2008 Polar Climate Change ◦Speaker: Robert Hollister, Polar Climate Change

April 22, 2008: Environmental Sustainability of a Biofuel Economy

Speaker: Phil Robertson, Ecological Sustainability of Biofuels
Summer 2007: GK-12 Summer Institute
Speaker: Marty Green (Plainwell Middle School), Discovery Educator Network
Speaker: Charles Bucienski (Fern Persons Elementary), Elementary Grade Level Expectations
Grade Level Science Expectations: Biology HSCE, Earth Science HSCE, and K-7 Content Expectations
2006 - 2007 Workshops
November 7, 2006: Using Science Databases for Classroom Inquiry

Speaker: Andy Anderson, Michigan High School Content Expectations

December 6, 2006: Behavioral Ecology

Speaker: Tom Getty, Behavioral Ecology

March 21, 2007: Local Ecological Issues

Speaker: Harper Creek High School, Effects of Urbanization on Water Quality
Speaker: Martin Public Schools, Agriculture in the Schoolyard
Speaker: KBS ROKS students, Crooked Lake

April 24, 2007: Climate Change

Speaker: Jeff Andreson, Michigan State Climatologist
Speaker: Rachael Shwom, Understanding Climate Change-Insights from the Social Sciences
Summer 2006: GK-12 Summer Institute
2005 - 2006 Workshops
November 30, 2005: Professional Development Planning
2004 - 2005 Workshops
December 2004: Professional Development Proposals
Summer 2004: K-12 Partnership Summer Science and Educational Leadership Institutes
Professional Development
Schoolyard Projects
Environmental Literacy Project
2003-2004 Workshops
September 2003: Biological Invasions
October 2003: Climate Change
November 2003: Impact of Climate Change on Ecosystems

December 2003: Invasive species and climate change as ecosystem disturbances: Experiences, patterns, and explanations
March 2004: Impacts of Human Land Use on Ecosystems
April 2004: Assessing a schoolyard for human impacts
Summer 2003: K-12 Partnership Summer Science and Educational Leadership Institutes
Science and Technology (Vernier Lab Pros, Excel, Powerpoint, GIS)
Pedagogy and Conducting Student Research
Leadership Proposals
2002-2003 Workshops
Summer 2002: K-12 Partnership Summer Science and Educational Leadership Institutes
Science and Technology (GIS, Internet)
Pedagogy and Conducting Student Research
Leadership Proposals