HISTORY AND MISSION
In 1928, W.K. Kellogg deeded the Kellogg Farm to Michigan State College, now Michigan State University, with the intention that the College would "… operate this farm under a most modern system of farm management so that it may serve as an object lesson to the people of the region in which it is located."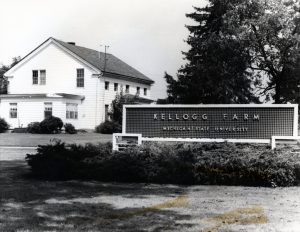 Today, the W.K. Kellogg Farm carries on that mission, supporting research that improves crop and animal management for the benefit of the producer, surrounding community and the environment. The integration of the row-crop, biofuel and dairy research programs provides a unique opportunity to examine agriculture from an integrated, whole system perspective.
CURRENT EVENTS INVOLVING KELLOGG FARM
July 20th, 2018
2017 Winter Malting Barley Trials Results

 Check out this article to learn more about the results from last year's trials.
ARCHIVED RESEARCH PROJECT ARTICLES
The Basics of Winter Barley in Michigan
Kernza® - What is it? & how it's starting to make a name in Michigan
FEATURED RESEARCH PROJECTS
The projects below offer a glimpse into current research at the Kellogg Farm. Explore the tabs for more information about each project.
Organic Winter Squash
Nitrous Oxide Emissions
Bovine Leukemia Virus
RESEARCH PROGRAMS & SITES
The agricultural lands of the Kellogg Farm include approximately 1,300 acres (530 ha) located at the KBS main site, Lux Arbor Reserve and the Marshall Farm. The programs and sites listed below are available to support the research activities of faculty, graduate students, post-doctorate researchers and extension educators from both MSU and other universities.
Long Term Ecological Research
Great Lakes Bioenergy Research Center
Pasture Dairy Center
Farming Systems Center
Michigan Cover Crops Program
Current and Past Short Term Research Projects
CONDUCTING RESEARCH
The Kellogg Farm supports the needs of researchers by offering the use of land, equipment, facilities and labor. In addition, researchers have opportunities to conduct studies within the context of each of the major research projects (LTER, GLBRC, PDC).
Prospective researchers are invited to contact Farm Manager Brook Wilke (wilkebro@msu.edu), (269) 671-2509), and to complete a Site Use Request Form (SURF). Specific costs associated with research activities at the Kellogg Farm are listed in the table below.
KBS Residents
MSU Researchers
Non-MSU Researchers
Base Fee
$0
$0
$500
Per Acre
$65
$65
$100
Livestock Charges
$0.35-$0.65 /
Head / Day
$0.35-$0.65 /
Head / Day
$0.50-$1.00 /
Head / Day
Labor Support*
$32 / Hour
$32 / Hour
$32 / Hour
* Labor support is subject to availability
SUSTAINABLE AGRICULTURE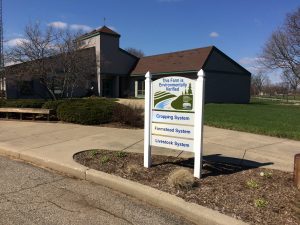 The Kellogg Farm prioritizes sustainable agriculture, utilizing practices that improve soil quality, sequester greenhouse gases, and reduce nutrient loss. Practices such as rotational grazing, cover cropping, and no-till, have been researched extensively, and continue to propel our efforts toward our original mission.

The Kellogg Farm is also certified with the Michigan Agriculture Environmental Assurance Program (MAEAP), which verifies that the Farm is working to protect natural resources by using environmentally sound practices.
FARM SOCIAL MEDIA ACCOUNTS
What to keep up with everyday happenings on the farm? Follow us on Facebook and Twitter to get more information about the Kellogg Farm!