HISTORY AND MISSION
In 1928, W.K. Kellogg deeded the Kellogg Farm to Michigan State College, now Michigan State University, with the intention that the College would "… operate this farm under a most modern system of farm management so that it may serve as an object lesson to the people of the region in which it is located."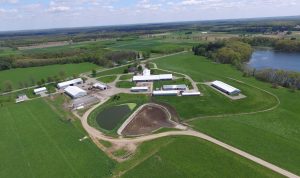 Today, the W.K. Kellogg Farm carries on that mission, supporting research that improves crop and animal management for the benefit of the producer, surrounding community and the environment. The integration of the row-crop, biofuel and dairy research programs provides a unique opportunity to examine agriculture from an integrated, whole system perspective.
FEATURED RESEARCH PROJECTS
The projects below offer a glimpse into current research at the Kellogg Farm. Explore the tabs for more information about each project.
Malting Barley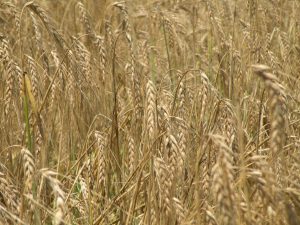 MSU Extension researchers are exploring malting barley opportunities in Michigan. These studies include trials that are comparing over 60 different winter and spring barley varieties, and management studies to learn more about fertilizer and fungicide recommendations. This research is led by Dr. Ashley McFarland and Dr. Dean Baas. To learn more, visit the Michigan malting barley website.
Interseeded Cover Crops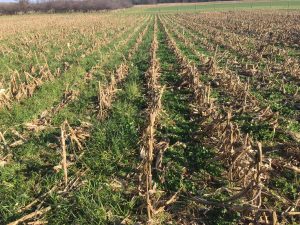 Faculty and Students from MSU's Plant, Soil and Microbial Sciences department are studying methods to inter-seed cover crops into corn fields prior to harvest. Individual cover crops and mixtures are being seeded at different times, and at different topographical locations, to examine cover crop success, effect on the corn crop, and influence on soil health. This research is led by Dr. Karen Renner and Dr. Sasha Kravchenko. Read more about cover crops on MSU Extension's cover crop website.
Bovine Leukemia Virus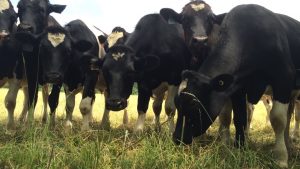 Faculty and students from MSU's College of Veterinary Medicine are researching multiple aspects of Bovine Leukemia Virus (BLV), including effects on dairy herds and methods to eliminate the virus. BLV causes enzootic bovine leucosis, which is characterized by an abnormally large number of lymphocytes and can lead to malignant lymphoma. The research efforts occurring at the Kellogg Farm are led by Dr. Paul Bartlett and Vickie Ruggiero More information can be found on the BLV website.
RESEARCH PROGRAMS & SITES
The agricultural lands of the Kellogg Farm include approximately 1,300 acres (530 ha) located at the KBS main site, Lux Arbor Reserve and the Marshall Farm. The programs and sites listed below are available to support the research activities of faculty, graduate students, post-doctorate researchers and extension educators from both MSU and other universities.
Long Term Ecological Research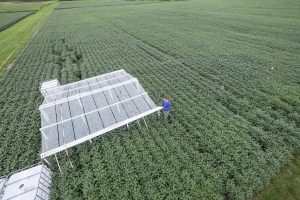 The Kellogg Biological Station Long-Term Ecological Research (LTER) Program studies the ecology of intensive field crop ecosystems and its environmental consequences as part of a National Network of LTER Sites established by the National Science Foundation in 1980. The KBS LTER joined the network in 1988.
Great Lakes Bioenergy Research Center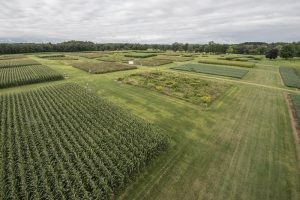 The Great Lakes Bioenergy Research Center (GLBRC) is exploring scientifically diverse approaches to converting various plant feedstocks, agricultural residues, wood chips, and nonfood grasses into liquid transportation fuels. In addition to its broad range of research projects, the GLBRC is also collaborating with agricultural researchers and producers to develop the most economically viable and environmentally sustainable practices for bioenergy production.
Pasture Dairy Center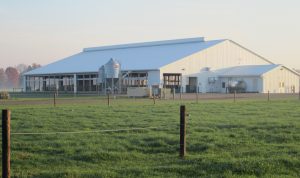 The Pasture Dairy Center integrates automatic milking technology and pasture-based management with a growing focus on sustainable agriculture and ecosystem services. The Pasture Dairy Center works to expand the capacity of MSU in addressing the needs of small and mid-sized dairy producers.
Farming Systems Center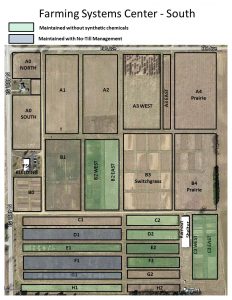 In addition to providing facility and equipment support for the long term research projects, the Farm also supports many shorter term projects related to crop and vegetable production via the Farming Systems Center (FSC).
Over 70 acres of land are available for research, most of which can be irrigated. Fields vary in size and land use history, and can be divided based on research needs. Facilities and equipment are available for researcher use. Labor support is provided on a case by case basis.
Michigan Cover Crops Program
The Cover Crops Program at the Michigan State University Extension's Agriculture and Agri-business Institute focuses on integrating cover crops into Michigan field crop systems. Our goal is to make information from research readily available so farmers can make better decisions about using cover crops on their farms. Use the link above to explore information on growing cover crops successfully on your farm.
CONDUCTING RESEARCH
The Kellogg Farm supports the needs of researchers by offering the use of land, equipment, facilities and labor. In addition, researchers have opportunities to conduct studies within the context of each of the major research projects (LTER, GLBRC, PDC).
Prospective researchers are invited to contact Farm Manager Brook Wilke (wilkebro@msu.edu), (269) 671-2509), and to complete a Site Use Request Form (SURF). Specific costs associated with research activities at the Kellogg Farm are listed in the table below.
KBS Residents
MSU Researchers
Non-MSU Researchers
Base Fee
$0
$0
$500
Per Acre
$65
$65
$100
Livestock Charges
$0.25-$0.80 /
Head / Day
$0.25-$0.80 /
Head / Day
$0.35-$1.00 /
Head / Day
Labor Support*
$33 / Hour
$33 / Hour
$33 / Hour
* Labor support is subject to availability
SUSTAINABLE AGRICULTURE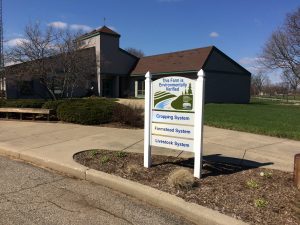 The Kellogg Farm prioritizes sustainable agriculture, utilizing practices that improve soil quality, sequester greenhouse gases, and reduce nutrient loss. Practices such as rotational grazing, cover cropping, and no-till, have been researched extensively, and continue to propel our efforts toward our original mission.

The Kellogg Farm is also certified with the Michigan Agriculture Environmental Assurance Program (MAEAP), which verifies that the Farm is working to protect natural resources by using environmentally sound practices.