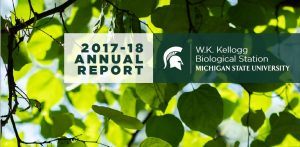 Our gratitude goes to the over 500 donors and 20 businesses and organizations who made an impact with a gift to KBS funds this past fiscal year. These gifts supported student scholarships, research, programing and facility improvements across KBS.
Read the KBS 2017-2018 Annual Report for all the details on another great year!
---
With your help, individual strength becomes collective power – the power to lead a new generation beyond today's challenges towards the discoveries of tomorrow. KBS is where students,  faculty, and researchers will make seemingly impossible ideas possible and turn dreams into reality.
KBS offers a variety of giving opportunities to support students, faculty, programs and facilities. With your support, we will remain at the forefront of biological and ecological discoveries. Thank you!