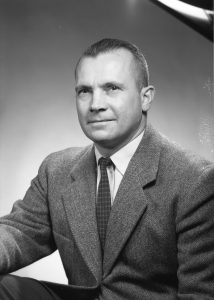 This year, we are celebrating 90 years since W.K. Kellogg donated the first lands that became KBS, but this week, we are also celebrating George Lauff's 90th birthday. Lauff was the director of KBS from 1964 until he retired in 1989, and was our first year-round resident director under the then-new MSU College of Natural Science.
During his tenure as director, he hired the first KBS resident faculty members, initiating research programs in aquatic ecology, population biology, community biology, and evolutionary ecology, sparking collaboration with main campus MSU researchers as well as those from other institutions. He helped secure original funding from the National Science Foundation to create the KBS Experimental Pond Lab in the early 1970s.
Lauff left a great legacy as director that continues today through the George H. Lauff Scholarship Fund, which was established in 1990 after Lauff donated his home to fund KBS student scholarships. The fund supports the research of both undergraduates and graduates who are enrolled at KBS.
"The Lauff Scholarship has been very important for me and other previous students in our lab," said Sara Garnett, a graduate student in Tom Getty's lab. Garnett has received Lauff funding every summer since she's been a graduate student at KBS, making her behavioral ecology research possible.
Robert Logan, a second-year graduate student in Sarah Evans' lab, received funding from the Lauff Scholarship last summer for research in the Namib Desert. The funding covered the cost of DNA sequencing for the samples he brought back, and field supplies while in Namibia.
"Science never goes the way you expect it to (especially fieldwork!) and the flexibility of the Lauff fund helped me respond to daily challenges quickly and with less red tape than I would have otherwise had to face. I'm very glad to have gotten this support from KBS," said Logan.
The Lauff fund was the first endowed scholarship at KBS, and it is still the largest source of scholarship funding for students here. Approximately $50,000 will support research efforts of undergraduate and graduate students this coming year. To give to the Lauff fund in celebration of his birthday, visit the NatSci giving site.