2019 KBS External Communications Intern, Grace Beltowski, is a Professional Writing major at Michigan State University. Grace wrote about her first week as a writer in a biological field station setting.
~~~~~~~~~~~~~~~~~~~~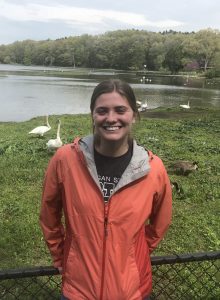 What is a professional writing student doing at a biological station that focuses on research in the natural sciences? Many friends and relatives have asked me some version of this question in the weeks leading up to my arrival at the W.K. Kellogg Biological Station, and in times of doubt, I've even been guilty of asking it myself. But if there's anything my first week at KBS has taught me, it's that this is a community of people who come from all different backgrounds and experiences to learn and grow together, and that I can use my own skills and interests to make a meaningful impact.
This summer, I have the opportunity to live and work at KBS as the External Communications Intern, and after arriving in mid-May, it's already been an exciting first week. I spent the mornings meeting with my mentor for the summer, Sarah Carroll, and learning about the different types of communication that take place at KBS to inform and engage the community. Right from the start, I was able to see the vital role writing and storytelling play in bringing KBS's research and mission to a public audience. With my skills as a professional writer, I hope to be a part of this outreach and showcase not only all of the interesting things happening at the bio station, but why people should get involved, so that KBS can continue its contribution to our understanding of the natural world.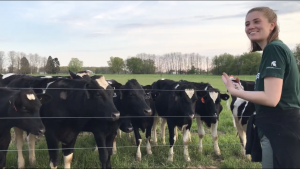 In the afternoons, I joined my fellow interns and the resident mentors for tours of KBS's various units, including the LTER field lab, Bird Sanctuary, Pasture Dairy Center, and Manor House. Getting to see all of these areas has shown me just how big KBS actually is, and that there are so many state-of-the-art projects and activities taking place around the station at any given time—from the robotic milking system at the Dairy Center to the climate change research being done at the LTER field lab. Each day has brought something new to see and learn, and I'm excited to be spending the summer in a place where I can continually grow and increase my own knowledge and understanding while being surrounded by others who value this as well.
As a part of the first week, we also participated in some orientation and professional development activities. We created elevator pitches for ourselves and our roles at KBS, and we completed Real Colors training facilitated by MSU Extension, where we learned about our personalities, strengths and weaknesses in order to thrive as a team. These activities helped me build relationships with the people I will be working and living with this summer, which makes me feel comfortable and welcome in my new home. I'm also already developing essential skills for the professional world, which shows me just how much everyone here wants you to succeed and will invest the time and effort into helping you do so.
Although I've had to introduce myself, my major and my summer internship position countless times throughout the past week, I've yet to meet anyone at KBS who has questioned what someone with my skills and passion for writing is doing here. I think it goes to show just how diverse and accepting this community is, and how the people here view working with different perspectives and experiences as central to furthering the mission of KBS. If my first week is only a taste of what being a part of the KBS community is all about, then I can't wait to see what the rest of the summer has in store.