Case Western Reserve University student Akshata Rudrapatna's first summer at KBS was so enriching, she aimed to return in 2019. This summer, she's back in the Klausmeier Lab studying metacommunity theory. Akshata was interviewed by external communications intern Grace Beltowski.
~~~~~~~~~~~~~~~~~~~
When Akshata Rudrapatna, a systems biology and origins sciences student, first arrived at the W.K. Kellogg Biological Station last summer, she didn't quite know what to expect from her time at a field station specializing in ecological research.
"Most of my research background was biomedical in nature, so I had no ecology background," said the Phoenix, AZ native. "I had never taken a class on ecology. I knew bare-bones ecology."
But Akshata, who is a member of the Research Experiences for Undergraduates—REU—program at KBS, didn't let this challenge stop her from excelling. She saw it as an opportunity to immerse herself in a new environment and learn from the people around her.
"Just getting to be around people who are super smart has been awesome," said Akshata of the KBS community. "I like to get as much as I can from working with them because they know a lot more than I do."
Math and metacommunities
This open mentality is one Akshata has carried with her throughout her first summer at KBS and beyond. Now a rising senior at Case Western Reserve University, Akshata is back at the station for a second summer as an REU in the Klausmeier Lab, where she studies metacommunity theory.
According to Akshata, metacommunity theory involves the study of communities linked together by the dispersal of species within them. While it can be used to examine patterns of biodiversity, it can also provide insight into much larger concepts.
"It's very broadly applicable to many different fields," explained Akshata. "It's important for understanding how we could do a better job of conserving a species, but it's also relevant for human health. For example, the human microbiome is something you can model using metacommunity theory."
Similar to the nature of the research she conducts, Akshata is interested in interdisciplinary work that combines various skills and areas of study. One of her favorite components of her current research with the Klausmeier Lab is that she gets to do a lot of math and coding, which are two sides of science she didn't have as much experience in until coming to KBS.
"I love math because I think you can do a lot with it and it's very precise. When you write an equation down, you can work towards potentially discovering a solution," Akshata said. "I also like the ability to work more closely with computer science because my major is a little more focused on biology than math or computer science, so getting more experience in coding is fun."
A 'welcoming, open environment'
Both coding and math are skills Akshata has had to practice and develop over the course of her time at KBS these past two summers. But Akshata enjoys surrounding herself with people who are experts in different disciplines, so she attributes much of her success as a student researcher to the support she's received in her lab.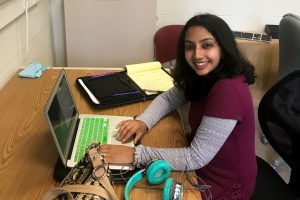 "Everyone in the Klausmeier Lab has been incredibly welcoming, especially when I dived into theoretical ecology for the first time which is where you really need to know ecological concepts well. I appreciate their patience in explaining what terms mean or how to do certain things," she said. "I would love to become as good at coding and math as my mentor, Dr. Klausmeier, because he's fabulously good at it."
Along with developing useful skills as a scientist, Akshata believes her time at KBS in general has played a key role in helping her discover what she wants to do with her future after graduating.
"KBS has been very helpful in making me decide that I'd rather do theoretical stuff than be empirically involved in a lab, because now I've done both and I genuinely prefer theory," she said. "Being at KBS and seeing that people here are extremely diverse and have different interests, yet still manage to fit these other interests into their graduate programs, has made me feel like I can do the same thing."
Just as there have been many people to help her along the way, Akshata also offers advice for other students who aren't sure if their majors or skills line up with an ecological research program like the REU program at KBS. Akshata encourages such students to be open and dive right in.
"Just do it," she said. "I like to joke that in ecology I've never met a mean person. I've never found anywhere else the kind of welcoming, open environment that I find here."