Harry Ervin's first summer at KBS left him wanting more, so he came back. Twice. Each of his three years here brought different, valuable experiences. Harry was interviewed by external communications intern Grace Beltowski.
~~~~~~~~~~~~~~~~~~~~
From the moment he first arrived at the W.K. Kellogg Biological Station in 2017, biology and biochemistry student Harry Ervin knew he was getting a valuable research experience. What he didn't know was that he was going to see much more of the research process than the typical undergraduate student.
"It's been this sort of holistic experience," said the recent Calvin College graduate. "I've gotten to see the entire gamut of what research actually entails, from what's behind the scenes, what's in front of the scenes, and the weird, awkward phases in between."
Now in his third summer at KBS, Harry's experience has culminated in him taking on a much larger role than most undergraduates get to obtain: that of lead author on a scientific publication. According to Harry, this new role has made his third summer a much different experience than the previous two.
"I do a lot more of making schedules, outlining, drafting, and I spend a significant amount of time emailing other authors to make sure everyone is on task," he said. "It's a complete shift. The first year I was working on my own project, and now I've come back and am doing very little research."
Leading the way
Getting to this point has not been easy for Harry; he's had to put in the time to achieve this level of responsibility. Along with being a resident mentor for the KBS summer program, Harry has spent the past three summers in the Evans Lab as a visiting undergraduate researcher. He studies plant-microbial ecology, which focuses on how plants, bacteria and fungi in the soil interact with each other. Harry explained how his lab has been particularly interested in switchgrass and how it can be used to improve agricultural practices.
"Switchgrass has been heavily researched for its potential as a biofuel crop, so by using it you're creating a more sustainable fueling system," he said. "Science is piecing together other people's information and realizing what's missing. In doing this research, we're able to add more to the story of how do you farm more sustainably and how do you use the soil and things in it properly?"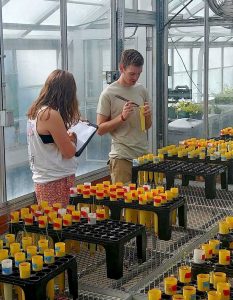 Harry is adding on yet another chapter to this story through publishing his research. While as lead author he is tasked with the majority of the writing, he's discovered that one of the most important aspects of working on a publication is teamwork.
"As lead author you organize and effectively run your team, trying to get through this very difficult goal of writing together," he said. "You make sure everyone has what they need to succeed within that, and then you take the primary responsibility of writing while your team supports you how they can."
Much of that support comes from Harry's mentor, Tayler Ulbrich, who is a graduate student in the Evans Lab. Harry has been working with Tayler since his first summer at KBS, and he values how their relationship has evolved over the past three years.
"[Tayler] is always looking for new ways to expand me and I'm always looking for new ways to further her, and that's something that's partnered really well between the two of us," said Harry. "Now it's been more of her motivating me and trying to keep me on schedule. It's more supportive and less instructional."
Along with being given more independence, Harry has found that being lead author comes with several challenges he's had to continually overcome.
"It requires a lot of patience, persistence and also extreme flexibility, but not so extreme that you miss your final deadlines because you are trying to publish within a certain time," he said. "You have to delicately balance how much each person is doing to make sure everyone maintains the necessary level for authorship, which is a whole added level of complexity I hadn't considered."
Despite the challenges, Harry sees his time as lead author as yet another valuable experience under his belt. Now a college graduate, Harry is using his last summer at KBS to help him learn more about his interests and work toward discovering what he wants to accomplish moving forward.
"These opportunities allow me to really learn what it is that I love," he said. "I'm hoping that after the summer is over I'll have time to reflect and decide on what I enjoy most and want to focus my time toward."
~~~~~~~~~~~~~~~~~~~~
Harry's third year at KBS was funded through the George H. Lauff Scholarship Fund.