On my first day at the W.K. Kellogg Biological Station, I felt nervous and scared because I couldn't believe that I got a summer research position. My mentor tried to calm me down, but I was scared because I didn't feel that I was a real scientist. What I didn't know at that moment was that a scientist is a person who is curious about something and investigates it, and not knowing about a subject is totally okay. Over the next few weeks, I started learning more about my research project: examining how climate change may affect the feedbacks between plants and their associated soil microbes. Every day I felt more confident; I was able to talk about my research with other people and think critically when things went wrong.
Something special about KBS is that you never stop learning about science and research. As a member of the Lau Lab, I helped with other undergraduate students' projects. For example, I helped Brendan Canavan study how patterns of insect herbivory differ under varying levels of nitrogen fertilizer. Thanks to this project, I learned how to collect insects and even had to suck bugs through an aspirator! Also, thanks to the professional development seminars that KBS provided, I grew as a future professional and did a lot of networking. The Eminent Ecologist seminars were among my favorites. I was able to meet with senior scientists, hear their stories about how they became involved in ecology, and ask about their research. I'm grateful for this PD because I could hear about how all these people came to be scientists and how we shouldn't be afraid when we get unexpected results or when we don't fully understand the mechanisms behind our results.
A 'beautiful gift'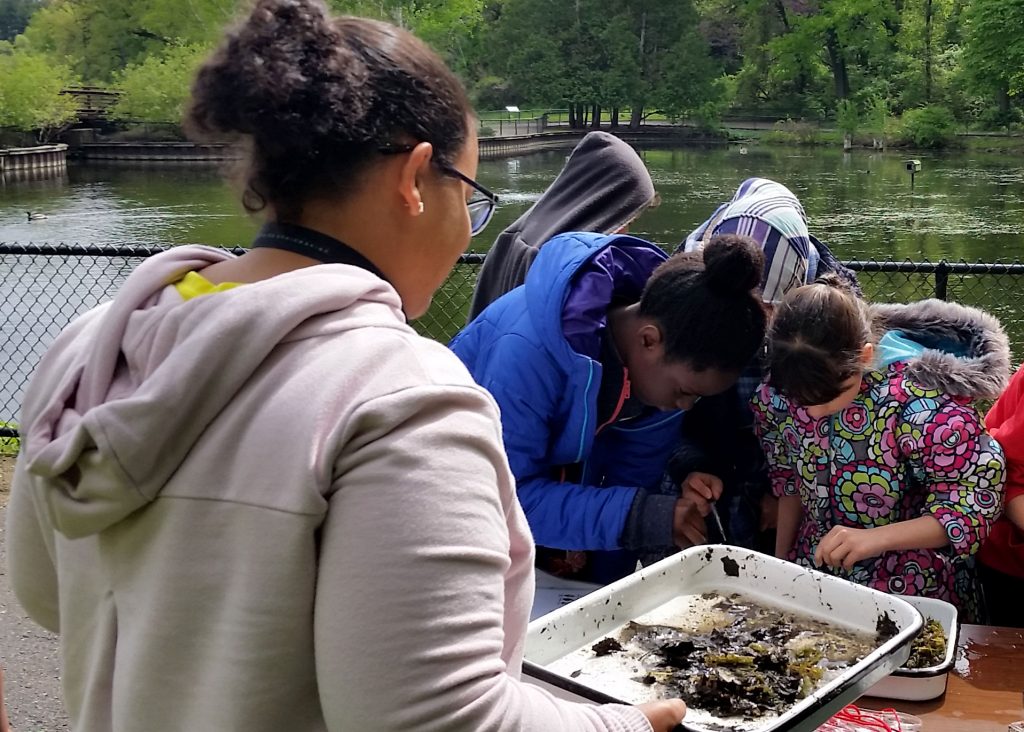 Another experience that helped me grow as a professional was participating in K-12 educational activities. The best activity for me was when I taught about the importance of macroinvertebrates at Gull Lake High School. I really liked this activity because it was a challenge—I even got to teach the class myself. Our team actually brought macroinvertebrates into the classroom! I learned that science is limitless, and that we can make science entertaining and fun. All the kids got to examine and touch the macroinvertebrates (the disgust for the leeches was priceless!), try to identify them, and investigate what macroinvertebrates can tell us about water quality. With these activities, I learned how to communicate science to a nonscientist community in different ways. I was really impressed with all the cool activities that scientists can do for the community to help them better understand and engage with science. This opportunity also helped me not be afraid of talking to a large group and to prepare to talk to the public at KBS's research symposium. It is really important to me that the community understands the environmental problems that we need to solve.
To be honest, I still struggle with not knowing everything in ecology. But it's okay. One of the things I'm grateful for is that KBS helped me to become more confident about my knowledge and critical thinking. I learned that doing science is fun and that the best gift that science can give you is when the community understands the importance of your research. I will continue doing research to receive that beautiful gift every day.
~~~~~~~~~~~~~~~~~~~~
Karina Cortijo-Robles is an undergraduate student at the University of Puerto Rico , studying environmental science. Her KBS mentors were Meredith Zettlemoyer and Drs. Kay Gross and Jen Lau. Her KBS summer experience was made possible with funding from the National Science Foundation's Biology Research Experiences for Undergraduates program.