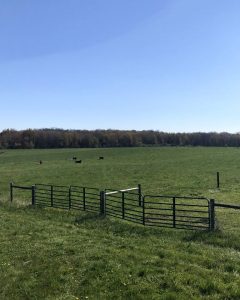 This spring, like most, has been a busy one at the W.K. Kellogg Farm and Pasture Dairy Center. That's in part because of collaborative projects between KBS and Michigan State University researchers based in East Lansing.
The nutritional value of pasture grazing

Some 60 steers arrived earlier this year at KBS as part of a study, supported by the Greenacres Foundation and headed by Dr. Jason Rowntree, associate professor in MSU's Department of Animal Science and a nationally recognized voice on food systems. His study looks at how the nutritional content of grass-fed cattle—think levels of fatty acids like omega 3s—might be affected by adding supplemental feed like hay, grass silage and soybean hulls.
Work on the two-year project, now in its first year, will primarily take place at KBS.
A temporary home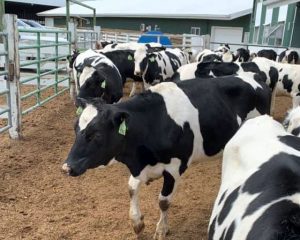 KBS continues to further MSU's mission while also alleviating a space crunch on MSU's main campus by raising heifers–young female cattle–at KBS facilities.
In partnership with MSU AgBioResearch and MSU's Department of Animal Science, KBS is raising heifers for the dairy farm on MSU's main campus. These cows come to the Farm at around eight months of age and are sent back to East Lansing when they're ready to calve.
Working together
In late April, the KBS community began raising money to buy and process a KBS cow, with the aim of providing ground beef to be distributed through the Twelve Baskets Food Pantry. Sarah Carroll, Julie Doll, Kevin Kahmark and Brook Wilke coordinated the effort.
With a match from the pantry, KBSers donated enough to provide some 1,200 pounds of ground beef to people in need in the communities served by Twelve Baskets: Portage, Schoolcraft, Three Rivers and Vicksburg.