Some of the turtles residing in Garside (formerly Sherriff's) Marsh, a tract of private land near the W.K. Kellogg Biological Station, were there long before dial-up internet, having already lived through the tenures of at least five U.S. presidents. We know this because of a study, based at KBS, that began in the 1960s and continues today.
J. Whitfield Gibbons, then a Ph.D. student at Michigan State University, first began capturing and marking turtles at Garside Marsh in 1965. After graduating, Gibbons returned to the site several times between 1971 and 2000 to continue the study. The data he gathered provided valuable information on the turtles' diets, growth rates and longevity.
A second look
After his arrival at KBS to work on threatened fish populations, Brendan Reid, who had studied turtles extensively, first learned of the decades-long effort. At that time, the study had been inactive for some 18 years. Reid, a postdoctoral research associate in the Fitzpatrick Lab, was intrigued by the possibilities of re-examining the marsh.
He wondered, "Would we still find any of the turtles Dr. Gibbons had marked? How has the population changed over time? Have different species of turtles grown more or less common over time? And what could more modern methods tell us about the ecology of the turtles?"
Reid, along with undergraduate students Marggie Glenn, Al Nichols and Juhi Parekh revisited the site during the summers of 2018 and 2019 to capture and mark turtles, employing a method Gibbons had used. The team also weighed, measured and photographed each caught turtle. To their excitement, they captured several turtles that had already been marked–more than 40 years ago!
Read more from Reid about the study history and some of his findings.
Continued inquiry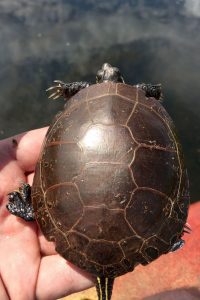 Data collection continues at the marsh this summer, though Reid is conducting research elsewhere. And because of pandemic-related restrictions, few undergraduate students are at KBS to help, so Professor Sarah Fitzpatrick and Ph.D. student Kyle Jaynes are focusing on collecting as much useful data as possible by themselves.
This is an important year for the study, according to Jaynes. "This will be the third consecutive year [2018, 2019, 2020] for contemporary sampling," he says. "So, after this year we will be able to make long-term comparisons since we [Reid and others] got the work up and running again."
How to help native turtle populations
Michigan is home to four turtles that are listed by the Department of Natural Resources as threatened or of special concern. The DNR suggests several ways to be a friend to native turtles, including taking the time to learn about them, supporting efforts to conserve their habitat and to be alert for turtles crossing roads.