Several southwest Michigan organizations, including the W.K. Kellogg Bird Sanctuary, are teaming up this spring to inspire families to get outside and explore.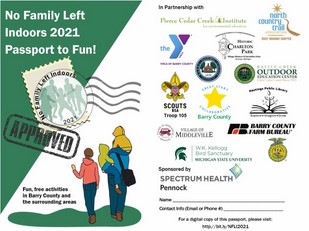 Together with Pierce Cedar Creek Institute, the Chief Noonday Chapter of the North Country Trail Association and others, the 2021 No Family Left Indoors program offers a bevy of in-person, virtual and self-guided activities in and around Barry County throughout the summer months. All activities are free and open to the public.
About
Program events kick off Tuesday, June 8, with a family night at Camp Algonquin with the YMCA of Barry County and a self-guided activity for finding constellations in the night sky.
Other types of events include scavenger hunts, storybook walks, art activities and online workshops. Kellogg Bird Sanctuary is hosting two programs: Bird Search and Seek, a challenge to find 25 life-sized bird prints hidden along the Sanctuary's Lake Loop Trail; and the July virtual Birds and Coffee Chat.
Families can keep track of the programs they take part in by completing a virtual or paper passport. If six or more activities are completed, families can return passports for a small prize and to be entered into a drawing for a larger prize.
Registration
No registration is required for the program at-large, but individual in-person events require registration. It's necessary to create an account to access a digital passport (paper copies also are available from Pierce Cedar Creek or the Hastings Public Library).
Questions? Contact Pierce Cedar Creek Institute at (269) 721-4190 or info@cedarcreekinstitute.org.