For Ceco Maples, summer at W.K. Kellogg Biological Station means spending as much time outdoors as possible. Ceco is a rising junior at Michigan State University, studying biology and anthropology. He is an Undergraduate Research Apprentice, or URA, in the Evans Lab at KBS.
"I'm doing research related to prairie strips and the environment," says Ceco. "The question we want to answer is 'What are the effects of using prairie strips in agriculture?'"
Looking to the future of farming
Prairie strips are native perennial plants that are planted by row crop fields for their ecological services and positive effects on soil health. Ceco is testing the soil's capacity to hold water and determining how much carbon is in the soil that is affected by the prairie strips.
"My work is important because using prairie strips will make agriculture more sustainable," says Ceco.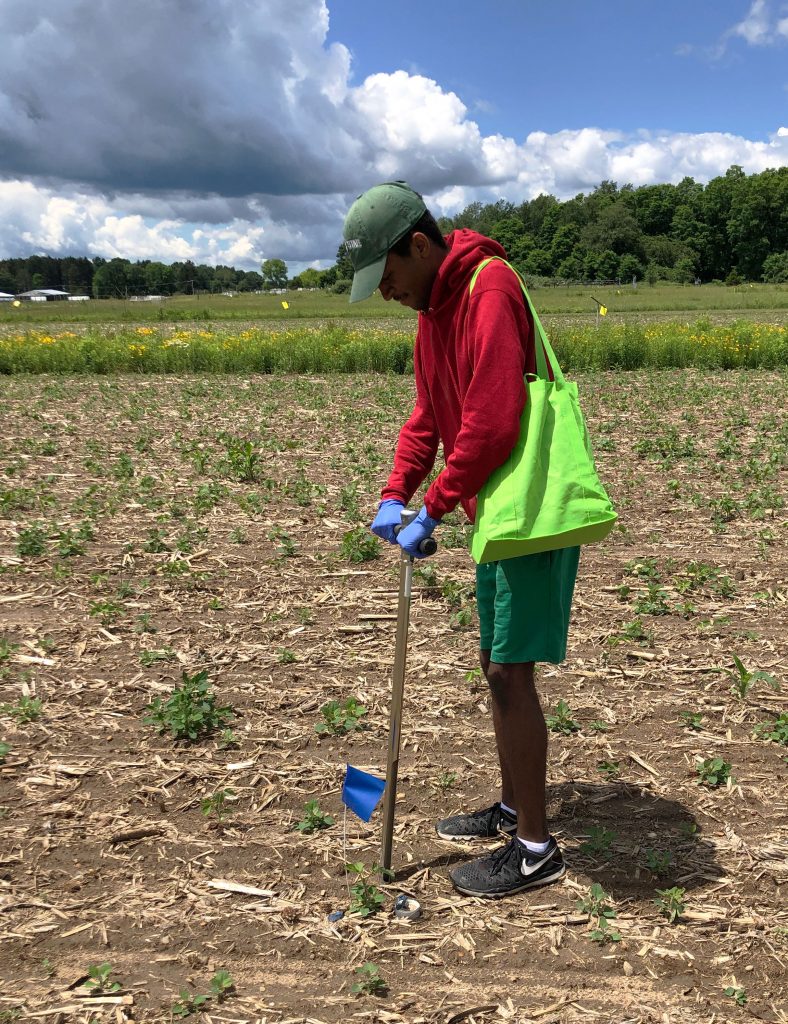 According to Ceco, using prairie strips in agriculture will have positive impacts on climate in the long run. The prairie strips also have other positive effects, such as stopping water runoff and providing flowers for many pollinator species.
While most of Ceco's research involves spending time in the lab, he also gets to experience working out in the field.
"I go into the field and dig out soil, collect it, and after that, I prepare samples for the tests that we do," says Ceco. "Then after that, I do the tests in the lab, using a bunch of chemicals and tools."
New experiences everywhere
The time spent outdoors doesn't end with research for Ceco. He spends much of his free time at KBS enjoying the beautiful campus.
"I like the environment," says Ceco. "I like that it's kind of secluded and there's a lot of nature and green."
He also learned how to ride a bike during his time at KBS so far.
"I've been riding around nature," says Ceco. "Riding my bike, seeing things, and I also use it to get around KBS."
The unique learning environment that KBS provides is part of the reason Ceco decided to spend his summer here.
"I first heard about it from my advisor," says Ceco. "Then after doing a bunch of research about the program, I really liked how I would be able to gain research experience in this environment on a campus away from MSU."
Prior to coming to KBS, Ceco was nervous about how COVID-19 restrictions might impact the program and his education. Summer students were required to quarantine for 10 days at the start of the summer and follow the necessary precautions as instructed by MSU. These precautions included wearing masks indoors and participating in the weekly COVID-19 Early Detection Program. MSU has since lifted most COVID-19 restrictions.
As the summer goes on, Ceco looks forward to continuing to make new experiences and meet new people.
"My favorite experience, if you would call it an experience, is meeting all the other students, staff and professors, everybody at KBS," says Ceco. "I'm looking forward to finishing my projects and just getting to know everybody better."
~~~~~~~~~~~~~~~~~~~~
Ceco was interviewed by Abigail Comar, the 2021 KBS external communications intern. Abigail is majoring in fisheries and wildlife and journalism at Michigan State University, with concentrations in conservation biology, environmental science and health reporting.