As a summer researcher in the Klausmeier Lab, Joseph Savage is spending a lot of his time coding and doing math. Joseph is a member of the Research Experiences for Undergraduates—REU—program at W.K. Kellogg Biological Station. A rising senior at Colby College, Joseph's summer work involves creating population models of phytoplankton in different lakes and understanding the dynamics that appear when those lakes are connected.
"Basically, we're trying to make some mathematical models from that, from scratch, and see what happens," says Joseph.
According to Joseph, his research helps us understand the dynamics that occur with phytoplankton populations when there are different nutrients in different lakes. This is important because it can be used to predict things such as potential algal blooms that can be dangerous.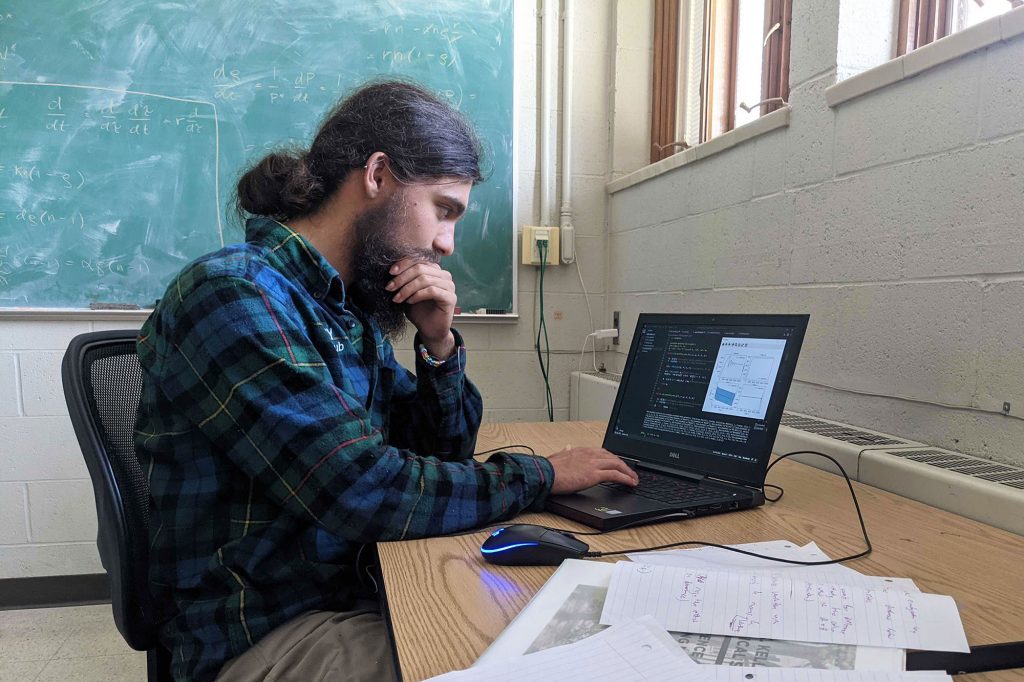 Due to the nature of his work, Joseph spends most of his time inside coding, instead of out in the field, like some of his peers. But to him, this mathematical work is just as important.
"I've felt like a scientist, which is really nice. Even in just the little things, like being in a room, looking at a computer and coding," Joseph explains.
However, Joseph's experience at KBS has been more than just coding on the computer all day. In his free time, he enjoys biking and paddling around Gull Lake with friends.
Finding a community
"The people here are really amazing," says Joseph. "It's been just a great experience both academically and socially, with networking and learning more about all sorts of things and meeting new people."
The hope of meeting new, interesting people and learning as much as possible is part of the reason Joseph decided to spend this summer at KBS.
"I just think it seemed like a great place to really, really learn," says Joseph. "It's a really strong program here, and also just a good place to connect with people in their fields."
Joseph has also gained new appreciation for applying concepts he's learned in his courses to his research.
"I think one thing I've learned that's new is just integrating a lot of the stuff I've learned in classes and applying that to actually studying population modelling," says Joseph. "Because it's one thing to learn it all in a class, and it's another to actually use it. So that's been a good thing to learn here this summer."
~~~~~~~~~~~~~~~~~~~~
Joseph was interviewed by Abigail Comar, the 2021 KBS external communications intern. Abigail is majoring in fisheries and wildlife and journalism at Michigan State University, with concentrations in conservation biology, environmental science and health reporting.