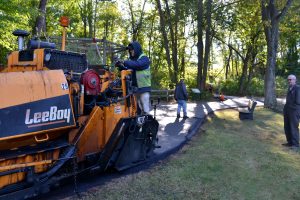 As anyone familiar with Michigan winters knows, our weather is inhospitable to concrete and asphalt. It's no different at the W.K. Kellogg Bird Sanctuary, where the 3/4-mile Paved Path—the main artery of the Sanctuary's trail system—is crumbling. Uneven or damaged walking paths present challenges to many Sanctuary visitors, including small children and people who use mobility aids.
This week, Kellogg Biological Station grounds staff began a long-desired repaving project, made possible by generous donors who saw an opportunity to break down a barrier to visiting the Sanctuary. The $25K donation, with support from KBS's budget and additional funds from Michigan State University's Infrastructure Planning and Facilities department, enables the repair of a significant portion of the Paved Path.
A big improvement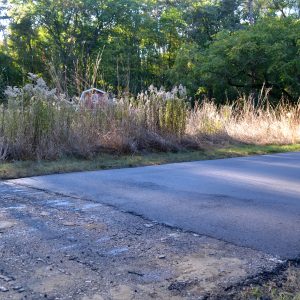 "This is a great partnership opportunity to make a big improvement in the aesthetics, maneuverability and safety within the Sanctuary," said Brad Osborn, KBS maintenance, grounds and custodial manager.
Visitors entering the Sanctuary trail system from behind the Resource Center building will notice the improvements immediately. Much of the Paved Path from the Resource Center to the Overlook will be resurfaced, as will a small portion just east of the resource center that connects to the Lake Loop Trail. To round out the project, a portion of the path near the birds of prey enclosures also will be repaved.
Donors make a difference
The donors, who asked to remain anonymous, observed the damage to the Paved Path during their visits and approached Sanctuary staff to ask how they could help. They recognized that repairs have been needed for some time, and they're glad that the project is underway and that walking the Paved Path will become a safer and more accessible experience for all.
We couldn't agree more. We thank them for their gift to the Sanctuary, and we're grateful to the KBS grounds crew for getting the work done.