Share your latest bird sightings and learn more about some of the bird species commonly spotted at this time of year in southwest Michigan during monthly Birds and Coffee chats, offered by the W.K. Kellogg Bird Sanctuary. All events begin at 10 a.m. on Zoom.
About
The first chat of 2022, on Wednesday, Jan. 12, will feature special guest Kristy Taylor. Kristy, current president of the Capital Area Audubon, will talk about birding and mindfulness. We'll share ways to look at birding from a perspective of mindfulness, using your time outdoors to create a sense of peace, focus and enjoyment.
The February chat, set for Wednesday, Feb. 9, will look at owls. Hosts Lisa Duke and Misty Klotz will talk about these mostly nocturnal predators, including Barred, Eastern Screech, Snowy, Barn and Great Horned owls.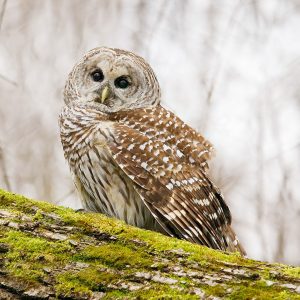 The March chat will take place Wednesday, March 9. In this chat, we'll study thrushes and ally birds, including the Eastern Bluebird, Swainson's Thrush, Wood Thrush, American Robin, and Veery.
Registration
Birds and Coffee chats are free and open to the public, but donations are welcome, and registration is required to access information on how to join the events.
Questions? Contact the Kellogg Bird Sanctuary at birdsanctuary@kbs.msu.edu or (269) 671-2510.
Barred Owl and Eastern Bluebird photos by Josh Haas.