The W.K. Kellogg Biological Station (KBS) is Michigan State University's largest off-campus education complex and one of North America's premier inland field stations.
Located between Kalamazoo and Battle Creek, Michigan (about 65 miles from MSU's main campus in East Lansing), the 3,873 acres/1,566 ha station includes W.K. Kellogg Bird Sanctuary, W.K. Kellogg Farm, KBS Academic and Research Facilities, W.K. Kellogg Conference Center and Manor House, and Lux Arbor Reserve. The nearby W.K. Kellogg Experimental Forest is closely affiliated with KBS.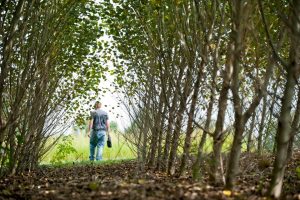 KBS is a premier site for field experimental research in aquatic and terrestrial ecology that takes advantage of the diverse managed and unmanaged ecosystems. The varied habitats of KBS includes forests, old fields, streams, wetlands, lakes, and agricultural lands.
Shared-use facilities are specifically designated to support the research of resident and non-resident faculty, and funding opportunities are available for graduate students to develop research and participate in educational programs.
World renowned for its contributions to ecological science and evolutionary biology, KBS is home to one of the National Science Foundation's Long-Term Ecological Research (LTER), and is committed to science and ecology education, conservation of natural resources and sustainable agriculture research and demonstration.
Currently, KBS is home to 12 faculty members, more than 20 graduate students and research associates, as well as numerous specialists and support staff.
KBS is administered through the MSU College of Agriculture and Natural Resources and the College of Natural Science.