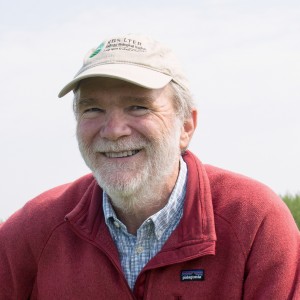 University Distinguished Professor
of Ecosystem Science

Ph.D. Indiana University, 1980
W. K. Kellogg Biological Station and
Dept. of Plant, Soil & Microbial Sciences
Michigan State University
Hickory Corners, MI 49060
Phone: (269) 760-8364
Email: robert30@msu.edu
Research Interests
Research in my lab broadly addresses issues of agricultural sustainability. We study the ecology of field crop ecosystems and landscapes. We focus on the plant, soil, and microbial interactions that affect the delivery of important ecosystem services such as climate stability, water quality, and yield.
We are particularly interested in questions of nitrogen cycling and loss, soil carbon dynamics, and fluxes of the greenhouse gases carbon dioxide, nitrous oxide, and methane. Our studies range in scale from microbial to global. At the local scale we work in contemporary field crop systems such as corn, soybean, and wheat, in unmanaged systems such as old fields and woodlots, and in potential biofuel crops such as switchgrass and restored prairie. We ask fundamental questions that inform the design of resource-efficient, high-yielding cropping systems; strategies to reduce nitrogen loss from agricultural landscapes; and national greenhouse gas mitigation policies. We work closely with agronomists, social scientists, and stakeholders to develop practical, evidence-based solutions for a more sustainable future.
Current topics being addressed in my lab include
Assessments of the global warming impact of agricultural management. Contemporary cropping systems are not carbon neutral but could be. We research the global warming impacts of different management practices to inform the design of future farming systems that are climate mitigating.
Sources and control of nitrous oxide (N2O) emissions from soils. N2O is one of the three major biogenic greenhouse gases (the others are carbon dioxide and methane), and agricultural soils represent the most important anthropogenic sources of N2O globally. Understanding the fundamental microbial basis for these fluxes is important for its eventual control.
Nitrogen availability and loss. Nitrogen is a limiting resource in most terrestrial ecosystems and cropping systems are no exception. We research relationships among plants, soil, and microbes to better understand the processes that regulate nitrogen acquisition, conservation, and loss in agricultural systems.
Climate change. Climate change adds new stresses to agricultural systems: warmer winters, summer heat waves, and changing rainfall patterns affect soil microbes, plants and carbon and nitrogen cycling in ways that differ from historical patterns. We are particularly interested in microbial feedbacks that affect soil carbon stability and reactive nitrogen loss.
Underlying all of our work is the general aim of understanding the processes that regulate biogeochemical cycles at multiple scales.