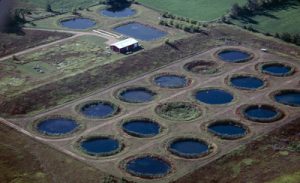 The KBS Experimental Pond Facility contains 18 experimental ponds, two holding ponds, and a reservoir. Each experimental pond is approximately 30 m in diameter with a maximum depth of 2 m and is lined with vinyl plastic to prevent seepage losses.
The ponds provide a unique opportunity to experimentally study the ecology and evolution of fish, plankton, and other aquatic organisms. Water levels in the ponds can be individually controlled. Each pond has a drain controlled by a butterfly valve, and a gravity-fed water distribution system supplies each pair of ponds via a water hydrant.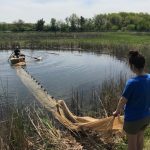 The water source is a deep well which pumps into the reservoir where the water is conditioned before entering the ponds. Drainage water is piped to a discharge site. Thus, each pond can be easily drained and refilled, allowing for experimental manipulation of the entire pond community. The two larger holding ponds are similar to the experimental ponds and are used for culturing fish stocks, zooplankton, and aquatic insects, and as sites for smaller-scale enclosure (bag) experiments. The design and construction of the ponds ensures maximum uniformity in exposure, water, and basin configuration.
In addition to the ponds, mesocosm experiments in cattle tanks and similar containers are often conducted at the facility because of the availability of outdoor space, water, and the field lab.

Conducting Research at the Ponds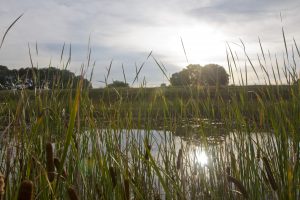 Visiting scholars as well as resident graduate students, postdocs and faculty, use the Pond Lab for research. All use of the ponds and pond facilities requires prior approval from the Pond Site Coordinator, Sarah Fitzpatrick. When contacting the Coordinator, please describe briefly your proposed plan of study, timetable, funding source(s) and facilities needed. Once a proposed plan has been vetted with the Coordinator, the work will require the usual KBS Site Use Request.
Click here for more information for visiting researchers, and the KBS Site Use Request form.
POND USE DEFINITIONS
Non-manipulative use: Routine monitoring and sampling. No draining or filling of ponds involved.
Manipulative use: Draining and filling of ponds required. Experimental manipulation of pond habitats or construction of experimental enclosures (performed at user's expense).
FEE STRUCTURE
Non-manipulative use of the ponds – No charge
Non-manipulative use of the ponds, bench space in the pond laboratory – $250/month
Manipulative use of the ponds – $300/pond/year
Manipulative use of the ponds, bench space in the pond laboratory – $250/month plus pond use charge.
Research Highlights
Ballew NG, Mittelbach GG, Scribner KT (2017) Fitness Consequences of Boldness in Juvenile and Adult Largemouth Bass. The American Naturalist. 189: 396-406. https://doi.org/10.1086/690909
Steiner CF, Stockwell RD, Tadros M, Shaman L, Patel K, Khraizat L (2016) Impacts of dispersal on rapid adaptation and dynamic stability of Daphnia in fluctuating environments. Proceedings of the Royal Society B 283: 20152426. http://dx.doi.org/10.1098/rspb.2015.2426
Jones SE, Lennon JT (2015) A test of the subsidy–stability hypothesis: the effects of terrestrial carbon in aquatic ecosystems. Ecology, 96: 1550-1560. doi:10.1890/14-1783.1