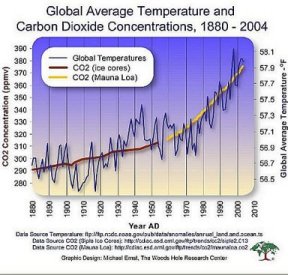 Often is the question asked, "Is our students data-ing?" According to the Pew Research Center, recent efforts to improve American student's grasp of math and science show some gains, but we still lag behind the majority of developed countries. Thankfully, the teachers in the KBS K-12 Partnership are the rock stars in this effort. Here, we offer a set of lessons from our vast stores of lessons that focus on the skills necessary to facilitate data-based inquiry: critical thinking, data analysis, and how to apply these skills to answering real-world questions.
Climate change: the basis of belief
In this lesson, students will examine three claims made about global warming: (1) global warming has not occurred since the industrial revolution, (2) the main cause of global warming since the industrial revolution has been natural changes in the amount of solar radiance from solar flares, and (3) the main cause of global warming since the industrial revolution has been an increase in greenhouse gases. Students will use quantitative figures to critically evaluate each claim and they will decide which claim is best supported by the information in the figures. Students will interpret and analyze graphs and figures and then evaluate the reliability of the information in the figures. Students will then evaluate the relevancy of each piece of information as it relates to the claims made and then students will make inferences to decide which claim is best supported by the evidence.
Expecting the unexpected: adventures in critical thinking
How do we know we can trust a source or a claim made by someone? What constitutes "good science"? Knowing the answers to these questions is an important critical thinking skill for all students and is even more important in this digital age where students are exposed to information from many different sources with varying degrees of accuracy and qualifications. Everyone, including your students, is constantly facing confusing news stories and conflicting data and evaluating these claims requires the ability to think critically about all the information being thrown at them.
This lesson contains activities that you can do with your middle and high school students to teach them critical thinking skills such as the importance of attempting to disprove a hypothesis, using hypotheses to make testable predictions, and examining a recent case of "bad science" that has resulted in harmful consequences. In addition, we include modifications for doing similar activities with elementary school classes. We'll also give you tools to deal with news that your students bring in with them, and how to help them go from just repeating data, to thinking about it.
http://scienceornot.net/ is a teacher resource with worked examples of how to reason through scientific claims made in the media, and general critical thinking. This is an excellent primer if you're not already comfortable with the material in this lesson plan.
Chi-square tests: when and how to use
Researchers often need to decide if the results they observe in an experiment are close enough to predicted theoretical results so that the tested hypothesis can be supported or rejected. For example, do a series of coin flips match what you'd expect to get by chance, or is their evidence the coin is unfair? Does the number of women interviewed for a job position match the proportion of women in the applicant pool, or is there evidence of bias? Does the number of white-eyed fruit fly offspring match the number expected if the white-eyed trait is recessive, or are white-eyes inherited in some other way?
The Chi-square goodness of fit test: application for testing genetic inheritance hypotheses
The Chi-square goodness of fit test can be used to test whether observed data are different from expected values based on a hypothesis. This test and lesson is a good introduction to statistical analysis of biological data for high school students. They will test their hypotheses with data and make scientifically rigorous conclusions.
BEST Plots: using student-collected data in the classroom
In the following lessons, we use questions generated for and data collected from the BEST (BioEnergy SusTainability) plots to have students make predictions, draw graphs, interpret data patterns, and support claims with evidence. Students play a fun and engaging game that helps them think about the biology involved in how plants grow or how invertebrates find food in their environment. The outcomes of the game help students make predictions. We also have four classroom activities, based on the Data Nugget model, that get students looking at real data, making graphs, and answering questions by making evidence based claims. These lessons focus on parts of the overarching scientific question for the BEST plots: "Can we grow our fuel and save our flowers and butterflies, too?"