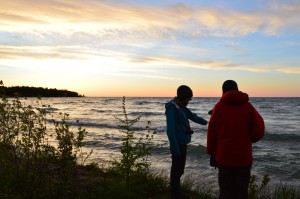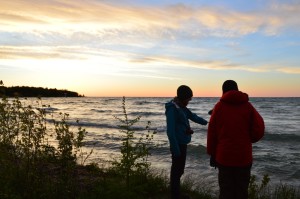 SUMMER 2020 UPDATE: To protect the health and safety of our students, faculty, and staff we have CANCELLED the 2020 KBS URA Program. Please check back in the Fall for Summer 2021 details.
KBS offers an Undergraduate Research Apprenticeship (URA) Program featuring research positions with outstanding faculty, postdocs and graduate students.
URA positions are part-time (research schedule is dependent on your KBS course schedule), and geared for early-career and community college transfer students with little to no previous research experience.
To complement your hands-on research experience, URAs are required to take a course at KBS during the summer (3 credits +).  KBS offers several field courses that combine classroom and outdoor research activities for a unique and engaging learning environment.  Please note that URAs are responsible for covering their MSU tuition for the course(s) taken.
What are the benefits of a URA at KBS?
Join a dynamic group of students and faculty for an authentic field research experience in ecology, evolutionary biology, and sustainability of biofuels
Learn the process of research
Explore if a career in research is a good choice for you
Build references for your application to future programs or graduate schools
You participate in professional development seminars that will prepare  you to be successful and think broadly about STEM career options
If you have questions about the program or application process, please email KBSsummer@kbs.msu.edu.
Thinking about applying to the program? Check out these student blog posts!
Summer URA Important Info & Forms
Program Details
Dates:
This program is 11 weeks long and will run from May 17 – August 1, 2020 (students are expected to arrive on-site by 5 p.m. Sunday, May 17 and depart Saturday, August 1).
Hours:
URAs average 20+ hours/week on research. Hours are dependent on your KBS course load.  Specific work hours will be arranged with your research mentor.
Course Requirement:
As part of your learning experience you are required to enroll in a summer field course at KBS.  URAs are responsible for paying for the MSU tuition associated with their course(s). Please contact the MSU Office of Financial Aid if you will need summer financial aid.
URA Awards Include:
$2500 stipend + FULL room & board scholarship (which includes Breakfast: M-F, Lunch: M-F, Dinner: M-Th, Brunch: Sat-Sun)
Learning Plan and Professional Development:
All URA students work with their mentor to complete a Learning Plan, attend weekly professional development seminars, and will develop a professional blog post, and/or a professional poster presentation, abstract and "elevator speech" about their KBS research experience.
Posters should also be presented at the annual KBS Summer Undergraduate Symposium and MSU's University Undergraduate Research and Arts Forum (UURAF) during the following spring semester.
***Attendance of Professional Development seminars is required as part of the URA Program.
Participating Faculty Labs
Basso Lab – KBS & MSU Dept. of Earth and Environmental Sciences: Our approach is to integrate diverse disciplines such as Biophysics, Climatology, Hydrology, Genetics, Agronomy, and Soil Science to understand the overall agricultural systems and to improve decision-making across a broad spectrum of stakeholders, from the smallholder farmer in the developing world to the industrial producer and policy maker at all scales.
Conner Lab – KBS & MSU Dept. of Plant Biology:  We study the mechanisms by which natural selection on weeds and native plants produces (sometimes very rapid) adaptation to a variable environment, as well as possible constraints on this adaptation. Our approach is to combine laboratory, greenhouse, and field studies integrating evolution, genetics, genomics, and ecology to attack problems at the interface of these areas in novel ways. Current work focuses on floral adaptations to pollinators, floral trait loss after the evolution of selfing, and rapid adaptation of weeds to agricultural environments.
Evans Lab – KBS & MSU Dept. of Integrative Biology:  The Evans Lab studies how microscopic organisms – bacteria, fungi, and archaea – function and respond to their environment. We are interested in how microbes respond to disturbances and stress, and what factors alter the diversity of microbial communities, as well as the ecosystem functions that microbes carry out, like cycling nutrients and facilitating plant growth.
Fitzpatrick Lab – KBS & MSU Dept. of Integrative Biology: We are interested in fundamental and applied questions in evolution, ecology, and conservation biology. A primary focus of our research is on understanding how evolutionary and ecological processes lead to patterns of adaptation, fitness, and ultimately persistence in small populations. We work on organisms (mostly fish, but also amphibians, reptiles, and birds) in the wild and in the lab using field, experimental, and molecular approaches.
Haddad Lab – KBS & MSU Dept. of Integrative Biology:  We study the effects of habitat loss and fragmentation on populations, communities, and ecosystems; Conservation and recovery of endangered butterflies; Spatial ecology; Application of ecological theory to conservation and management.
Klausmeier & Litchman Lab – KBS & MSU Depts. of Plant Biology & Integrative Biology: We study microbial, freshwater and marine phytoplankton ecology, using a combination of theoretical and empirical approaches such as analytical and simulation modeling, laboratory experiments, field sampling, and long-term and large-scale data analysis to answer fundamental questions about what determines community composition and species diversity and how ecological communities would re-organize under anthropogenic global change.
Lowry Lab – MSU Dept. of Plant Biology:  The research of the Lowry lab is centered on identifying the genetic and genomic mechanisms of ecological adaptations and how those adaptations contribute to the formation of new species.
Robertson Lab – KBS & MSU Dept. of Plant Soil & Microbial Science:  Research in my lab broadly addresses issues of agricultural sustainability. We study the biogeochemistry and productivity of field crop ecosystems and landscapes. We focus on the plant, soil, and microbial interactions that affect the delivery of important ecosystem services such as climate stability, water quality, and yield.
Wetzel Lab – MSU Dept. of Entomology: The Wetzel Lab studies the ecological interactions among plants, insect herbivores, and predators. We focus on how biological diversity and environmental variability influence the dynamics of insect herbivore populations and their interactions with plants and predators.
Zarnetske Lab – MSU Dept. of Integrative Biology: The Zarnetske Spatial and Community Ecology Lab aims to understand and predict how ecological communities respond to change in space and time. We investigate how the composition and geographic distribution of ecological communities are affected by biotic interactions, species invasions, ​biophysical feedbacks, geodiversity, and climate change.
How to Apply
Applications are now closed.
Details for Summer 2021 will available in December. 
What will you need?
Ability to participate the entire 11-week program (May 17-Aug 1, 2020)
A PDF of your current resume
A list of all college level math and science courses taken through Spring 2018
A well-written statement of interest that highlights how this experience will enhance your learning and career goals
Please DO NOT apply separately for KBS courses unless you intend to take courses at KBS even if not selected for the program.
Preference is given to MSU students who have just completed their freshman or sophomore year, or have recently transferred to MSU from a community college, and have little to no prior research experience.
We strongly encourage applications from underrepresented groups in the sciences, first-generation college students and US military vets. You must be a U.S. citizen, or permanent resident of the U.S., with undergraduate status to participate.