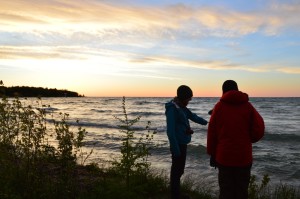 Applications for Summer 2022 are open now! We are offering on-site, in-person educational field experiences at KBS in summer 2022! Apply below!
KBS offers an Undergraduate Research Apprenticeship (URA) Program featuring research positions with outstanding faculty, postdocs and graduate students.
URA positions are part-time (research schedule is dependent on your KBS course schedule), and geared for undergraduate and community college transfer students with little to no previous research experience.
To complement your hands-on research experience, URAs are required to take a course at KBS during the summer (3 credits +). KBS offers several field courses that combine classroom and outdoor research activities for a unique and engaging learning environment. Please note that URAs are responsible for covering their MSU tuition for the course(s) taken.
What are the benefits of a URA at KBS?
Join a dynamic group of students and faculty for an authentic field research experience in ecology, evolutionary biology, and sustainability of biofuels
Learn the process of research
Explore if a career in research is a good choice for you
Build references for your application to future programs or graduate schools
You participate in professional development seminars that will prepare  you to be successful and think broadly about STEM career options
If you have questions about the program or application process, please email KBSsummer@msu.edu.
Thinking about applying to the program? Check out these student blog posts!
Summer URA Important Info & Forms
Program Details
Participating Faculty Labs and Research Programs
How to apply