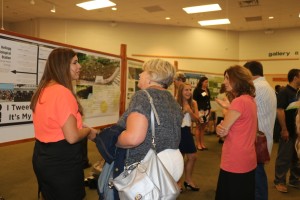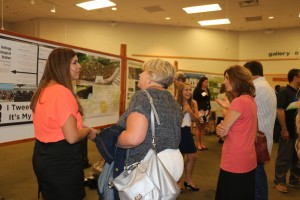 Interns play a valuable role in the development and implementation of initiatives vital to the mission of KBS.  The KBS Internship Program provides part-time (20+ hrs/week) professional experiences for students in a wide range of disciplines across KBS.
To complement the internship learning experience, interns are required to take a course at KBS (3 credits +) and participate in weekly professional development seminars during the summer.  Please note that interns are responsible for covering their MSU tuition for the course(s) taken.
Check out what Lindsay Mensch (MSU, Professional Writing/English) had to say about her KBS internship experience!
 If you have questions about the program or application process, please email KBSsummer@kbs.msu.edu.
Check back on December 15th for the Summer 2020 application!
Important Program Details
Interns work with their mentor to come up with an individualized Learning Plan for the summer, attend weekly professional development seminars, and you may also complete a portfolio-worthy project.
At the end of the summer you will develop a professional poster and "elevator speech" about your KBS internship experience to be presented at the annual KBS Undergraduate Symposium, and/or write a professional blog post that will be shared on our KBS blog.
Dates:
This program is 12 weeks long and will run from May 12-August 1, 2020 (students are expected to arrive on-site by 9am Tuesday, May 12th and depart Saturday, August 1st).
Hours:
Internships are typically part-time (20+ hours/week) to accommodate your KBS course load.  Hours typically increase closer to full time during the session you do not have a KBS course commitment.  Specific work hours will be arranged with your mentor.
Course Requirement:
As part of your learning experience you are required to enroll in a summer field course at KBS.  Interns are responsible for paying for the MSU tuition associated with their course(s). Please contact the MSU Office of Financial Aid if you will need summer financial aid.
Compensation:
$2500 stipend + FULL room & board scholarship (which includes Breakfast M-F, Lunch M-F, Dinner M-Th, Brunch Sat/Sun)
Housing is equipped with small full kitchens so students also have the ability to prepare meals on their own. Resident Mentors also facilitate group meals/BBQs on evenings when the Conference Center is not serving dinner.
***Note that interns are hired as an MSU Intern and pay checks will have taxes withheld.
Learning Plan & Professional Development:
All Interns will work through the I@S program and develop a Learning Plan with their mentor that outlines specific learning goals for the Internship.  KBS offers a variety of Professional Development seminars throughout the summer designed to provide Interns with essential professional skills. ***Attendance of designated Professional Development seminars is required.
You may click HERE for detailed student info and the required forms for the Internships @ State (I@S) Program.
Summer Internship Info & Forms
Summer 2019 Internship Positions
How to Apply
Check back on December 15th for the Summer 2020 application.
What will you need?
Ability to participate the entire 12-week program (May 12-Aug 1, 2020)
A PDF of your current resume
A PDF of your transcripts (unofficial is acceptable)
A list of all college-level courses you have completed relevant to the internship you are applying for
Contact information for at least one reference
A well-written statement of interest that highlights how this experience will enhance your learning and career goals
Please DO NOT apply separately for KBS courses unless you intend to take courses at KBS even if your are not selected for the internship program.
Applicants must be enrolled as college students during Spring/Summer 2019.  Preference for internship positions is given to MSU students, non-MSU students may be considered and can take their course requirement as a MSU LifeLong Learner.  Speak with your advisor about transferring course credits to your home institution.