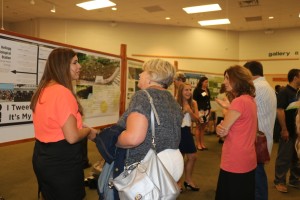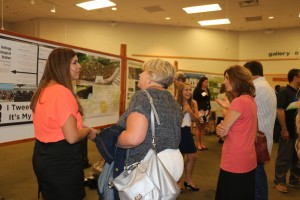 Interns play a valuable role in the development and implementation of initiatives vital to the mission of KBS. The KBS Internship Program provides part-time (20+ hrs/week) professional experiences for students in a wide range of disciplines across KBS.
To complement the internship learning experience, interns are required to take a course at KBS (3 credits +) and participate in weekly professional development seminars during the summer. Please note that interns are responsible for covering their MSU tuition for the course(s) taken.
Check out what Lindsay Mensch (MSU, Professional Writing/English) had to say about her KBS internship experience!
If you have questions about the program or application process, please email KBSsummer@kbs.msu.edu.
Important Program Details
Interns work with their mentor to come up with an individualized Learning Plan for the summer, attend weekly professional development seminars, and you may also complete a portfolio-worthy project.
At the end of the summer you will develop a professional poster and "elevator speech" about your KBS internship experience to be presented at the annual KBS Undergraduate Symposium, and/or write a professional blog post that will be shared on our KBS blog.
Dates:
This program is 12 weeks long and will run from May 12-August 1, 2020 (students are expected to arrive on-site by 9am Tuesday, May 12th and depart Saturday, August 1st).
Hours:
Internships are typically part-time (20+ hours/week) to accommodate your KBS course load. Hours typically increase closer to full time during the session you do not have a KBS course commitment. Specific work hours will be arranged with your mentor.
Course Requirement:
As part of your learning experience you are required to enroll in a summer field course at KBS. Interns are responsible for paying for the MSU tuition associated with their course(s). Please contact the MSU Office of Financial Aid if you will need summer financial aid.
Compensation:
$2500 stipend + FULL room & board scholarship (which includes Breakfast M-F, Lunch M-F, Dinner M-Th, Brunch Sat/Sun)
Housing is equipped with small full kitchens so students also have the ability to prepare meals on their own. Resident Mentors also facilitate group meals/BBQs on evenings when the Conference Center is not serving dinner.
***Note that interns are hired as an MSU Intern and pay checks will have taxes withheld.
Learning Plan & Professional Development:
All Interns will work through the I@S program and develop a Learning Plan with their mentor that outlines specific learning goals for the Internship. KBS offers a variety of Professional Development seminars throughout the summer designed to provide Interns with essential professional skills. ***Attendance of designated Professional Development seminars is required.
You may click HERE for detailed student info and the required forms for the Internships @ State (I@S) Program.
Summer Internship Info & Forms
Summer 2020 Internship Positions
Summer 2020 Internship Positions
Avian Care Internship – Kellogg Bird Sanctuary
Mentors: Sara DePew-Bäby (Avian Caretaker) & Lisa Duke (Sanctuary Manager)
Intern will gain husbandry experience in waterfowl, upland gamebird and birds of prey (70%), interpretation/education (15%); avian care project (15%). Sanctuary flock care will include feeding and monitoring flock health and welfare; exhibit maintenance & renovation; preparation and maintenance of nesting structures; proper capture and handling techniques; veterinary procedures and health exams; bird surveys and citizen science projects (monitoring nest boxes); raptor husbandry/training & glove handling animal ambassadors; working with and supervising volunteers. Interpretation/education responsibilities will include: leading educational tours; production of educational and promotional materials; assisting with web page, blog, and social media posts; and representing the Sanctuary at schools, festivals, and events. The avian care project for 2020 will be to finish building fencing in the public areas near the raptor habitats to protect the health and welfare of the resident birds. The intern will be expected to present their work at the KBS Undergraduate Internship & Research Symposium at the end of the summer.
Environmental Education Internship – Kellogg Bird Sanctuary
Mentors: Misty Klotz (Envi. Ed. Assistant & Volunteer Coordinator) & Lisa Duke (Sanctuary Manager)
The intern will gain experience in developing and delivering environmental educational programs for all ages at the Kellogg Bird Sanctuary. Responsibilities include, but are not limited to: giving guided tours and other group programs as needed; greeting and assisting visitors with general Sanctuary, Biological Station and wildlife related questions; development and delivery of the Wild Wednesday programs for young families; provide environmental education programs to youth and camp groups; and completion of agreed upon intern project focused on environmental education best practices. The project will be presented with a poster at the KBS Undergraduate Internship & Research Symposium at the end of the summer.
External Communications Internship – Kellogg Biological Station
Mentors: Sarah Carroll & Cara Barnes (KBS Development & Community Relations)
The objective of this 12-week professional Internship is to facilitate the growth of the Intern's communication and storytelling skills within a scientific context to reach a wide, varied audience. This Internship is unique because of its location at Michigan State University's W.K. Kellogg Biological Station in Hickory Corners, MI, where Interns have the chance spend a summer advancing in their field and learning about cutting-edge natural science. The Intern will be trained by the KBS Development & Community Relations Coordinator in using MSU brand standards as a platform to communicate to the community via social media, web and written communication. The Intern will be evaluated on their progress throughout the Internship and will have weekly check-in meetings with their mentor(s). Tasks that may be associated with this internship include: designing promotional materials promoting the significance of KBS research; connecting KBS alumni with current KBS goings-on; drafting, producing and distributing communication pieces and/or fundraising materials; and assisting with donor-related events.
Social Media Marketing Internship – Kellogg Manor House
Mentor: Jim Allen (Conference Center Manager) & Nicole Kokx (Manor House Event Coordinator)
The objective of this 12-week professional internship is to facilitate the growth of the Intern's communication skills through generating social media promotional content for the KBS Conference Center. Tasks may include bench-marking social media channels of local competition, create targeted content, writing social media standard procedures for social media postings, and scheduling posted content using available scheduling tools. The intern will collaborate with the KBS Community Relations team, Conference Center Sales Office and the Conference Center Manager. Candidate should be comfortable writing for a wide audience, posting on social media, and making comparisons between social media advertising from similar service providers.
Sustainable Agriculture Internship – Kellogg Farm
Mentor: Dr. Brook Wilke (Farm Manager), Howard Straub (Dairy Manager), and Dr. Dean Baas (MSU Extension)
The 2020 Sustainable Agriculture Internship at the Kellogg Farm will focus on sustainable production of row crops and livestock. The intern will develop an understanding of conservation practices within grain based cropping systems (e.g. cover crops, no-till, precision farming, etc.), and assist with production and associated research projects. Rotational grazing and forage production will also be a component of the internship, as well as education activities targeting professionals and the public. Contact Farm Manager Brook Wilke (wilkebro@msu.edu) if you would like more information.
SPECIAL OPPORTUNITY!
See below for special internship opportunities at KBS with MSUE (Michigan State University Extension). MSUE sponsored internships are FULL TIME (40 hrs/week), and you must apply using the position number through MSU's Handshake. If you would like to take a field course at KBS in conjunction with your MSUE internship, please visit our courses page to fill out an online course application!
TBA
How to Apply
Applications are now closed.
Details for Summer 2021 will available in December.
What will you need?
Ability to participate the entire 12-week program (May 12-Aug 1, 2020)
A PDF of your current resume
A PDF of your transcripts (unofficial is acceptable)
A list of all college-level courses you have completed relevant to the internship you are applying for
Contact information for at least one reference
A well-written statement of interest that highlights how this experience will enhance your learning and career goals
Please DO NOT apply separately for KBS courses unless you intend to take courses at KBS even if your are not selected for the internship program.
Applicants must be enrolled as college students during Spring/Summer 2019. Preference for internship positions is given to MSU students, non-MSU students may be considered and can take their course requirement as a MSU LifeLong Learner. Speak with your advisor about transferring course credits to your home institution.