Teaching Science Outdoors
Stay connected:
Upcoming programs:
About the program: 
The Teaching Science Outdoors program started in 2014 to provide an in-depth science experience for K-5 teachers.  Check out this poster from the 2017 CREATE for STEM mini-conference for more details.
In 2019 the National Science Foundation awarded a Discovery Research for preK-12 (DRK-12) Grant to further study the Teaching Science Outdoors professional development program with 4th and 5th grade teachers from Lansing and Detroit Public Schools, Belle Isle Conservancy and Ebersole Environmental Education and Conference Center.  Read more.
Teaching Science Outdoors (TSO) brings elementary teachers to an outdoor environment, such as KBS or Tollgate Farm and Education Center, and allows them to practice science in a variety of outdoor habitats, with a focus on aquatic and terrestrial. Next Generation Science Standards and technology (iPads, website and google docs) are incorporated throughout the experience. Teachers develop skills to adapt existing science curriculum for the outdoor classroom, plan and carry out an investigation, analyze and interpret data and engage in argument from evidence and build a network of resources to refer back to once they return to the classroom.  Teaching Science Outdoors was created and is presented in partnership with faculty and staff from CREATE for STEM Institute and Dr. Tali Tal from Technion University.  More information about the research on TSO from CREATE for STEM Institute.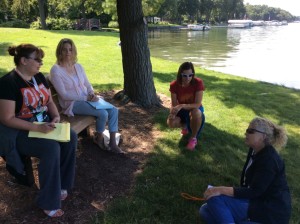 Questions?  Contact Kara Haas by email
Looking for resources?  TSO websites, webinars, lesson plans and resources available on the Classroom Resources page, search Teaching Science Outdoors
Contact Us_KBS K-12 Programs
Questions or requests for more information about opportunities for K-12 teachers and students are welcome here!