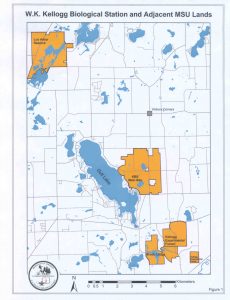 KBS is a premier site for field experimental research in aquatic and terrestrial ecology that takes advantage of the diverse managed and unmanaged ecosystems on our property and in the local area. The land base for KBS includes 3,873 acres/1,566 ha of diverse habitats, including forests, old fields, streams, wetlands, lakes, and agricultural lands. Shared-use facilities are specifically designated to support the research of resident and non-resident faculty, and funding opportunities are available for graduate students to develop research and participate in educational programs.
KBS has long-term experiments focused on agricultural and grassland ecology including the KBS Long-term Ecological Research (LTER) program and the Great Lakes Bioenergy Research Center (GLBRC), as well as a more recently established prairie restoration project. There is also a pasture-based dairy that can support grazing and forage research. Throughout the property there are agricultural fields and successional grasslands and forests of varying size and landscape context.
KBS provides a wonderful environment for visiting scholars to conduct research, write, or simply interact with a community of scientists whose interests encompass the disciplines of evolution, population, community and ecosystem ecology. There are weekly seminars during the academic year as well as longer visits by eminent researchers during the summer.
We encourage visiting scholars and scientists from other institutions or from the MSU campus.
Setting up a research project
Establishing a research project at KBS requires a number of logistical arrangements that should be made well in advance. Contact the KBS Facilities Coordinator for specific information on availability of field sites, laboratory space and facilities, or other resources (see details below). Modest site use fees are charged for use of KBS facilities.
Field Research
Research on KBS-managed lands (see map) including the main site, Lux Arbor, and Marshall Farm, requires submission of a Site Use Request Form (SURF; see below). Maps and images of KBS lands can be found on the LTER website. Contact the manager for research at the Kellogg Experimental Forest, which is managed separately. Research on public-access lands and lakes in the broader area may require MDNR and/or MDEQ permits.
Space and Equipment
Equipment, office space and laboratory bench space facilities are available at reasonable fees for use by visiting researchers. Specialized labs and equipment require KBS faculty approval and may have varying associated costs.

Billing and Purchasing Arrangements
Individual PIs may establish credit accounts with the KBS administration to enable the purchase of supplies from MSU Stores or other vendors that give discounts to MSU accounts.

Technology and Communication
Visiting researchers at KBS have access to mail, email, Internet-equipped computers, printers and MSU library electronic databases. Some computers have image analysis, graphical and statistical programs installed. Many field sites and laboratories have wireless internet access, as do all major buildings at KBS.

Lodging
Housing is  available on site for summer and visiting researchers and students. Short-term (less than 9 months) housing options at KBS include cabins, dorms, and apartments, as well as communal and rental houses. See the W.K. Kellogg Conference Center webpage for details on various housing options and to complete a Short-term Housing Reservation Form.
If you are planning a stay longer than 9 months, please complete this Long-term Housing Reservation Form.
Contact the Conference Center at (269)671-2400 or conference@kbs.msu.edu with specific questions regarding meal and housing options and rates.
Site Use Requests
Site Use Request Form (SURF)
The first step to conducting research at KBS is contacting the KBS Director and the KBS staff/faculty responsible for the site (see list below). The second step is to submit a site use request form (SURF) at least one month before the project begins. The request will typically be processed within 2-4 weeks of submission. There are three types of forms:
1. For most work at KBS use the general SURF
2. For work at the LTER or GLBRC experimental sites use the LTER or GLBRC SURF
3. Work that extends across both the LTER/GLBRC and other KBS lands or facilities may require both kinds of SURFs
Upon approval, researchers will be informed of any anticipated fees, which are due at the end of the first month of on-site research at KBS or with the annual report if it is a multiple year study. Researchers are strongly advised to solicit preliminary approval for site use prior to submitting to funding agencies proposals to work at KBS; a funded proposal does not guarantee site access however.
During and after the project
All researchers at KBS are expected to follow University regulations with respect to research conduct and safety. KBS also requires everyone to sign a
Code of Conduct
.
Each researcher must provide a brief report each year. We maintain records of research performed at KBS sites to report to funding agencies. We also keep records of sampling and experiment location to inform future researchers.
Students who conduct research at KBS should provide the KBS library with a copy of their thesis or dissertation. All publications from research conducted at KBS should acknowledge KBS and include a contribution number.

Contacts for Information on Specific KBS Facilities & Field Sites