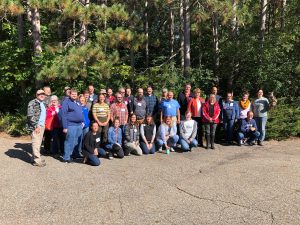 2021-22 Opportunities:
Fall Workshop Series, Nov. 11, 16 and 18 2021 (recordings available)
Spring Workshop – date and format TBD
Summer Institute, Tent. June 21-23, 2022 – format TBD
Book Study 2022: Book and dates TBD
Stay connected!  Check out recent blog posts, follow @KaraHaaSciEd, @OutdoorsTeach, sign up for e-mail updates using the form at the bottom of the page to stay up to date on opportunities!  
KBS K-12 Partnership: professional development for All Science Teachers
The KBS K-12 Partnership provides teachers in-depth exposure to research topics in environmental science and training to teach inquiry-based science at the elementary and secondary levels.  The Partnership is a joint effort among KBS scientists, MSU College of Education faculty, science teachers and administrators in southwest Michigan school districts. Since 1999 the Partnership has been supported by multiple grants and is sustained by the KBS Long-term Ecological Research Program (the National Science Foundation's Long-term Ecological Research Program).  New teachers are always welcome to join and should complete the contact form below to be added to the K-12 Partnership mailing list.
Perks of participation
Participate in up to 6 professional development days a year (3 summer, 2 fall, 1 spring).
Compensation: Substitute costs are reimbursed for spring and fall participation. Summer attendees receive a daily stipend.
Build your network: connect with teachers across Michigan and MSU scientists
Ask for help!  The Science Education and Outreach Fellows are available for classroom visits, to help with a lesson plan, field trip, or share about their science and career path.  Use the form below to request.
Opportunity to engage in broader research projects to understand and improve science education. Current projects: Carbon TIME led by Dr. Andy Anderson and Teaching Science Outdoors(TSO) led by Dr. Gail Richmond, Dr. Tali Tal and MSU's CREATE for STEM Institute.
Access to resources: online lesson plans and able to borrow kits and supplies.
Who can participate?
Practicing teachers of K-12 students, including formal and informal educators.  Elementary, middle and high school teachers are all welcome.  Elementary teachers are also invited to participate in the Teaching Science Outdoors program which is specifically for K-5 teachers.  New teachers are always welcome to join and should complete the contact form below to be added to the K-12 Partnership mailing list.
Research Experiences for Teachers are authentic science research experiences for K-12 teachers. Visit this page for details on each summer's opportunities.  
Questions? Contact Kara Haas, 269-671-2360, Science Education & Outreach Coordinator
 Additional Affiliated Programs: 
Project Leaders and Contacts
The K-12 Partnership has included schools from many districts in Southwest Michigan, over 300 teachers, administrators, advanced graduate students pursuing degrees at KBS, and MSU science faculty from KBS and science-teaching faculty from the College of Education have participated.
Partnership Coordinator
Kara Haas, Science Education & Outreach Coordinator
Former Fellows:
Lindsey Kemmerling, 2019-2020
Ava Garrison, 2019-2020
Sean Griffin, 2018-2019
Meredith Zettlemoyer, 2018-19
Lana Bolin, summer 2019
Heather Kittredge, 2016-18
Susan Magnoli, 2017-18
Dustin Kincaid, 2016-17
Tyler Bassett, 2016-17
Sara Garnett, 2016-17
K-12 Partnership Steering Committee members (2015-16): Kara Haas, Kay Gross, Andy Anderson, Sarah Bodbyl Roels, Jake Nalley, Tyler Bassett, Kim Sandefur (Comstock), Beck Drayton (Gobles), Marty Buehler (Hastings), Jody Lugar-McManus (Parchment)
MSU Staff and Faculty Partnership Collaborators
GK-12 Co-Director (Co-PI) and Professor
Department of Teacher Education
Post-doctoral Researcher, Project Manager (Co-PI) for KBS GK-12 Project, and network coordinator for CarbonTIME
Kellogg Biological Station and Teacher Education
GK-12 Co-Director (Co-PI) and Professor
Kellogg Biological Station and Department of Integrated Biology
Steering Committee Science Lead
Kellogg Biological Station Director
Long Term Ecological Research Project Director
Department of Plant, Soil and Microbial Sciences
Kellogg Biological Station
Past Grants & Projects
Program for preservice teachers, a KBS summer experience, hands on courses and working with a cohort to better understand evolution and how to teach it in the secondary classroom.  In partnership with BEACON Center for the study of Evolution in Action and MSU's Department of Teacher Education.  Thank you to Jamie Bowman and Jodie McManus for their mentorship.  Congratulations to Diontae Matthews, Kathryn Schwartz and Chris Symons for completing the first summer Undergraduate Research Experience for Teachers!
Many thanks to Louise Mead (BEACON), Tomomi Suwa (KBS) and David Stroupe (MSU College of Teacher Edcation) for their leadership and collaboration.
Teacher REvoluTION (summer 2015)
This KBS project was funded and implemented in partnership with BEACON.  Seven Research Experiences for Teachers (RET), five based at KBS and two based on MSU main campus, were brought together as a cohort over the summer of 2015.  RETs were each able to create a lesson that was presented during the KBS K-12 Partnership Summer Institute and provide a session at the BEACON Congress about the impact of RET experiences.  Participants were
Lau lab: Shaun Davis (Thornapple Kellogg) and Katie McKinley (Mattawan)
Litchman lab: Connie High (Delton Kellogg)
Conner lab: Marcia Angle (Lawton) and Cheryl Hach (Kalamazoo Area Math and Science Center)
Lenski lab: Rick Schultz (St. John's) and Fred Hingst (DeWitt)
Gross Lab: Ashley Carroll (Gull Lake) (GLBRC RET)
This KBS project, part of a national network of GK-12 sites funded by the National Science Foundation (NSF), ran from 2010 – 2015. The primary goal was to provide science graduate students with skills broadly preparing them for their professional and scientific careers, through interactions with teachers and students in area K-12 schools. Graduate student fellows honed their science communication, teaching, and outreach in local classrooms though partnerships with teachers of the KBS K-12 partnership. For a project overview and to access all products, including over 120 classroom-ready lesson plans, please visit the KBS GK-12 website at http://kbsgk12project.kbs.msu.edu/.
Please contact program co-Director Tom Getty , program manager Sarah Bodbyl or co-Director Andy Anderson for more information on the new KBS GK-12 Bioenergy Sustainability Project.
This program is part of the larger Environmental Literacy Project at MSU, it is also known as the Pathways Project. The goal of our project is to develop learning progressions leading toward environmental science literacy—the capacity to understand and participate in evidence-based discussions of socio-ecological systems and to make informed decisions about appropriate actions and policies—for students from upper elementary school through college.  Contact Andy Anderson for more information.
This project ran from 2006-2009. This GK-12 Program teamed KBS graduate students pursuing advanced degrees in ecology with K-12 science teachers in rural districts near KBS. The program aimed to enrich K-12 science instruction by promoting inquiry-based science teaching in participating school districts. At the same time, the program aimed to provide graduate students the opportunity to improve their teaching and science communication skills.   Contact Andy Anderson for more information.

 

Contact Us_KBS K-12 Programs

Questions or requests for more information about opportunities for K-12 teachers and students are welcome here!