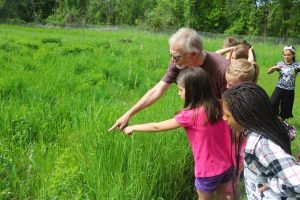 Climate change is a real phenomenon we can observe. And human activities are the dominant force behind it. Any attempt to obfuscate this reality is politically motivated and is not supported by unequivocal scientific evidence.
Here we present several lesson plans that will help you and your students explore the scientific evidence.
Elementary School Lessons
Book recommendations: Next Generation Science Standards Interactive Read Alouds for K-5: A comprehensive list of children's literature aligned to the NGSS (compiled by Courtney Woods, Masters Candidate, Curriculum & Instruction, University of Wisconsin-Madison)
Buried Sunlight: How Fossil Fuels Have Changed the Earth
By Penny Chisholm & Molly Bang
MY NASA DATA Lesson: The Sun's Energy
Use line plots to analyze authentic NASA data. This lesson demonstrates that the sun heats up land, air, and water.
MY NASA DATA Lesson: Creating a Bar Graph
Use bar graphs to explore temperatures on Earth's surface.
Both NASA and the EPA have interactive sites to help elementary students explore climate science.
Middle & High School Lessons
Albedo: How Much of the Sun's Energy Gets Absorbed?
Students explore how different substances (air, water) and different colors absorb energy from the sun and warm up. Discuss what we already know about light energy and absorption, make predictions about what color of background paper will cause air and water to heat up faster, test predictions by constructing boxes and collecting temperature data, analyze data, and make conclusions about the implications for climate change.
Climate Change: The Basis of Belief
Students examine three claims about global warming and use quantitative figures to critically evaluate each claim.
Trends in Michigan & Wisconsin Lake Ice Cover Data
Students will explore long term datasets on the duration of ice cover for three different lakes in Michigan and Wisconsin. They will examine patterns of variation at different time scales to see the importance of long-term data as well as the importance of having multiple sources of support for scientific hypotheses (in this case, global climate change).
Global Climate Change Modules from PBS & NASA
These free, self-paced modules, which include Introduction to Earth's Dynamically Changing Climate, explore best practices for teaching global climate change to middle- and high-school students.
More science based lessons can be found here. More information about KBS K-12 Partnership professional development and resources.
This blog post compiled by K-12 Partnership Science Education Fellows.