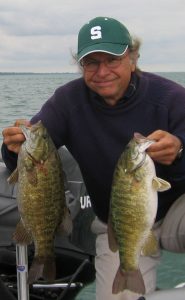 We are proud to announce that KBS professor emeritus Doug Schemske (pictured at right) was recently elected to the National Academy of Sciences.
"This is the highest recognition that an American scientist can receive, and no one deserves it more than Doug," said Schemske's longtime colleague and fellow KBS professor Gary Mittelbach. "It made my day when I heard the news."
Schemske's research in population biology and evolutionary ecology has focused on understanding the factors that contribute to the origin and maintenance and life on earth. He has investigated ecological and genetic mechanisms of adaptation and speciation, the causes of high tropical diversity, the ecology and evolution of plant mating systems, and research approaches in plant conservation.
"I especially treasure our work on the causes of the latitudinal diversity gradient (i.e., why are the tropics extraordinarily rich in biodiversity compared to the temperate zone) as one of the most fun and rewarding parts of my career," said Mittelbach of his collaborations with Schemske.
KBS professor Jeff Conner said that Schemske's election to NAS is "very well-deserved, and long overdue! Doug stands out as a scientist because of his uncanny ability to identify a critically important scientific problem and then address it in a way that revolutionizes the field."
Mittelbach and Conner both remarked that some of Schemske's most important impacts on the KBS community have been seen in his insightful mentoring and generous contributions to graduate student committees. Additionally, Mittelbach praised Schemske's advocacy for KBS at MSU and the way he "upped the game with regard to the quality of science done at KBS."
Schemske joined the faculty at MSU in 2001, following faculty appointments at the University of Chicago and the University of Washington. He has garnered many awards and distinctions over the course of his career, including the E.O. Wilson Naturalist Award and election to the American Academy of Arts and Sciences. He retired earlier this year but continues collaborations with a number of MSU researchers.
"[Schemske's] election to the NAS is the recognition of a life devoted to asking and answering the important questions in evolutionary biology," said Mittelbach. "He is a true naturalist with an overwhelming curiosity about how the natural world works."