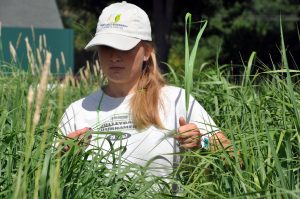 "What research would you propose?" A few minutes into our conversation, a phone interview for the summer Research Experience for Undergraduates (REU) internship I'd applied for at Kellogg Biological Station, we'd moved past the questions I was prepared to answer into new territory: hypotheses of my own. I couldn't believe a scientist with a PhD was taking my input seriously.
I'd done my homework, and knew more or less what Dr. Dylan Weese's research was about. As a postdoc with Dr. Jen Lau, he was investigating whether addition of nitrogen to the soil via deposition of car exhaust and other anthropogenic gases from the atmosphere could affect how much nitrogen was made available for plants by soil bacteria.
The idea that human activity could change ancient resource-trading partnerships between plant roots and bacteria was new, fascinating, and more than a little unsettling to me. Still, I hadn't expected to help design the research project. I'd figured the PhDs would be asking the questions and I'd just be helping wash glassware in the lab.
I didn't consider myself a "real" scientist, but I did have plenty of ideas to explore. I worked at the student farm at Pomona College, and questions about the interactions between plants, soil, and microbes popped into mind daily as I harvested vegetables, turned compost, and planted seeds. Seeing an opportunity to build on my background in the REU internship, I proposed looking at nitrogen additions in an agricultural context.
The project that we settled on was my first introduction to hypothesis-driven research. In retrospect, that makes the KBS internship the first milestone on my path to graduate school and a planned scientific career, but at the time it registered only as a definite improvement over my previous experience in science courses. No lab handouts, no pre-formulated experiments, no correct answers.
Instead, I discovered a greater degree of independence and, correspondingly, a greater sense of responsibility for the quality and integrity of my work. I loved being out in the soybean fields, but found that digging in the soil in pursuit of answers gave me a sense of fulfilment I hadn't quite found in my work at the student farm. That insight ultimately guided my choice to go into agricultural research focusing on plant root-soil-microbe interactions.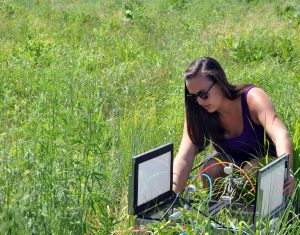 Despite the occasionally independent and solitary nature of research, the summer I spent at KBS was far from lonely. It was a tremendous opportunity to be part of a community of scientists who took the time to mentor us, a fresh-faced crew of undergraduates on our first foray into academia, on everything from oral presentation skills to proper lab notebook habits to networking at conferences.
In light of the now-mainstream discussion on discrimination and barriers faced by women in science, I've come to realize how unique it was that I worked in a lab headed by a female professor with a new baby and unwound with a mostly-female cohort of REU interns in the evenings. Imposter syndrome is fairly commonplace in grad school, particularly among my female early-career scientist peers. I've certainly had my moments of doubt, but perhaps the summer I spent at KBS is why I've never questioned my scientific competence as a woman.
Fast-forward five years. I am now partway through my PhD at the University of California, Davis, and the research Dylan, Jen, and I began that summer was recently accepted by Ecological Applications. We tested the hypothesis that applying nitrogen fertilizer destabilizes the partnership between soybean plants and the beneficial bacteria that live in their roots over the long term, causing these rhizobia to provide less nitrogen to the plants and ultimately making a fertilized agricultural system more dependent on synthetic inputs.
Surprisingly, fertilization didn't appear to affect the mutualism in the context in which we studied it (for more, check out the article: "Long-term agricultural management does not alter the evolution of a soybean-rhizobium mutualism"). Still, Dr. Lau's other research suggests that fertilization has an effect under other conditions. And that leaves us with another set of questions that deserve to be taken seriously – perhaps by the next round of KBS students.
Jennifer Schmidt is a Ph.D. student at the University of California, Davis. She was an REU in the Lau lab at KBS in 2012.