News
| | | | |
| --- | --- | --- | --- |
| Nicole Kokx, KBS Event Coordinator, named 2014-2015 Outstanding Staff Member by CANR | | | |
KBS News
Friday, 27 February 2015 14:35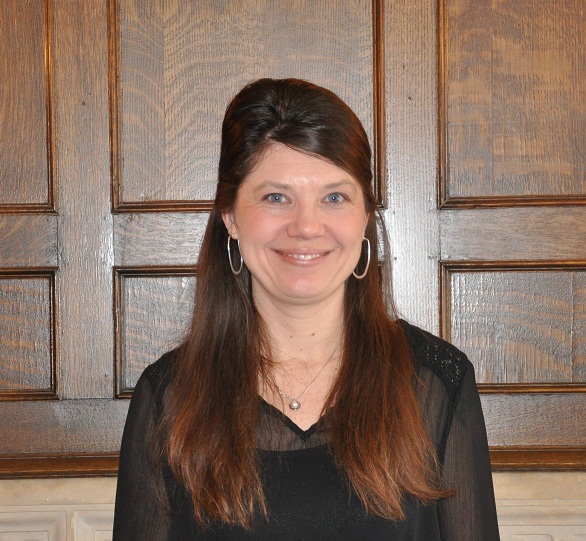 KBS Event Coordinator, Nicole Kokx, has been named MSU's College of Agriculture & Natural Resources (CANR) Outstanding Staff Member for the 2014-2015 year.

"Nicole is the definition of excellence beyond the call of duty", wrote W.K. Kellogg Biological Station Conference Center Manager, Jim Allen, in his nomination letter. "Nicole's selfless efforts operating within the zone of excellence bring great credit upon herself, the W.K. Kellogg Biological Station and Michigan State University.

Kokx's vision and leadership was key in bringing about structural additions to the Conference Center staff, allowing her more time for client development. "Nicole was instrumental to a domino effect going from increased revenue to viable student support", shared Allen. With this, the Conference Center was able to provide $20,000 worth of free housing for students studying at KBS during the 2014 summer session.

The CANR Outstanding Staff Member Award is given annually to recognize and reward excellence to CANR staff and team members for outstanding service in the past year. Award recipients receive a cash award and an inscribed award plaque, along with his/her name engraved on a plaque displayed in Agricultural Hall at MSU's main campus.

Kokx will be recognized on April 15, 2015 at the CANR Annual Faculty & Staff Awards Picnic, taking place at the MSU Pavilion in East Lansing.

Congratulations Nicole!
| | | | |
| --- | --- | --- | --- |
| KBS Director appointed to Chair NSF Advisory Committee for Biological Sciences | | | |
KBS News
Thursday, 22 January 2015 15:35
Dr. Katherine L. Gross, MSU Distinguished Professor of Plant Biology and Director of W.K. Kellogg Biological Station, has been appointed as chair of the Advisory Committee for Biological Sciences (BIO AC) of the National Science Foundation.
The BIO Advisory Committee provides advice and recommendations to the NSF concerning support for research, education, and human resources in the biological sciences.
Research supported by BIO enhances understanding in issues of national importance including: the environment, economy, agriculture, and human welfare.
As the chair, Dr. Gross will serve as the lead liaison to the NSF Biological Sciences Director and will oversee a 20+ member committee.
The committee's members include representatives from many different divisions of biology; a cross section of institutions including industry; and balanced representation of women and under-represented minorities.
Dr. Gross has served on the committee since March 2011 and her current appointment as chairperson will last until April 2017.
More information can be found online at http://www.nsf.gov/bio/advisory.jsp.
Bird Sanctuary News
Thursday, 08 January 2015 17:29
written by Sara Bäby
January 8, 2015
We have done a little rearranging here at the Bird Sanctuary with our raptors. The pair of Red-Tailed Hawks on the lakeshore was moved to the second pen in the raptor loop and the Barred Owl was moved off exhibit so I can train him to be used in education programs. This is a process that can take months to accomplish, and he has already been showing much improvement.
Our Barred Owl would often fly away from caretakers when they entered his pen. With just a few weeks of a new routine in a new area, he will now sit in one spot when we enter and clean. Introducing the glove was a bit more challenging, but he will now sit on my gloved hand as I walk around. We have begun venturing outside of his pen and into the building, where he is working on being walked through doorways, going into a crate, being weighed, and getting used to being around more people.
The Barred Owl is progressing well in his training. When you visit in the spring, hopefully you will see us together in a program!
| | | | |
| --- | --- | --- | --- |
| Bird Sanctuary Receives Grant for the Pollinator Garden! | | | |
Bird Sanctuary News
Wednesday, 19 November 2014 16:45
The National Association for Interpretation (NAI) Region 4 recently announced its Interpretive Project Grant Award Winners, and is pleased to report W.K. Kellogg Bird Sanctuary is among the 2014 recipients.
The Interpretive Project Grants (IPG) program is designed to provide a source of funding for small projects by Association members within the Great Lakes region including Indiana, Michigan, Ohio and Ontario.
Kellogg Bird Sanctuary's project – Kellogg Bird Sanctuary Pollinator Garden – will update the existing Pollinator Garden and bring more diverse, native plants to supplemental garden areas including a water garden, xeriscape garden and rain garden.  According to grant applicants Kara Haas and Kimberly Ginn of the Sanctuary, "the educational goal of this garden exhibit is to communicate the importance of native Michigan plants and the birds, bees and butterflies that pollinate them."
Plants, such as this Maximilian Sunflower, support
pollinators including birds and insects.
"It is always interesting and enlightening for the Committee to see all of the wonderful projects underway in Region 4 - we have very passionate and creative members in our region," said Jennifer McDowell, Chair of the Interpretive Project Grants Committee. "Congratulations to the Kellogg Bird Sanctuary for emphasizing the importance of native plants and their delicate role in the ecosystem.  Engaging visitors about the value of these plants as native caterpillar host plants, or unique food sources to migrating birds creates a connection that will likely encourage planting native species to create wildlife sanctuaries in their own backyards."
Grant funds will help produce educational signs about this bee condo.
This summer 2014 intern project, offers a quick stop from flower to "home" for the bees.
| | | | |
| --- | --- | --- | --- |
| Dr. Steve Hamilton Awarded by MSU for Civic Engagement | | | |
KBS News
Wednesday, 12 November 2014 16:35
Dr. Steve Hamilton (Professor, KBS/Dept. of Zoology) has been given a Curricular Service-Learning and Civic Engagement Award by Michigan State University for his work with the Kalamazoo River Watershed Council and with the Kalamazoo River oil spill in 2010.
Dr. Hamilton is the president of the Kalamazoo River Watershed Council, an organization that relates Kalamazoo River environmental and water quality information to the public. Due to his expertise in water quality and environmental issues, he was instrumental in assisting the government and community organizations with the Kalamazoo River oil spill cleanup. For his efforts with the cleanup, he was awarded the Petoskey Prize for Environmental Leadership by the Michigan Environmental Council.
These awards are given annually to recognize those individuals for their outstanding efforts in curricular service-learning and civic engagement that is linked to their college's mission.
| | | | |
| --- | --- | --- | --- |
| Undergrad researchers present at symposium | | | |
KBS Research News
Thursday, 07 August 2014 21:49
Congratulations to the undergraduate researchers who presented posters at the 2014 KBS Undergraduate Research Symposium, held on Wednesday, August 6. For a gallery of photos, please visit the KBS Facebook page. Projects included:
"Eggs-pressing condition: What do House Wren eggs say about the female?" Aaron Aguirre, MSU Fisheries and Wildlife Club, Getty Lab. Mentor: Cara Krieg.
"Do soil microbial communities from cropping systems of varying diversity account for differences in yields?" Olivia Barrera, MSU Plant Biology, Gross Lab. Mentors: Kay Gross and Karen Stahlheber.
"Listening to what females have to say: Female song characteristics may communicate fighting condition to rival House Wrens." Alexandra Burnett, MSU Zoology, Getty Lab. Mentor: Cara Krieg.
"Multi-mutualist effects on arthropod communities and plant performance." Sara Carabajal, Humboldt State University, Lau Lab. Mentors: Kane Keller and Susan Magnoli.
"Using community weighted means to understand compositional changes over time in restored southwest Michigan prairies." Madeleine Cleary, MSU Fisheries and Wildlife, Burdvig Lab. Mentor: Chad Zirbel.
"Land use history and soil microbial communities affect plant invader success in prairie restorations." Kent Connell, University of Tennessee - Knoxville, Lau Lab. Mentor: Tyler Bassett.
"Effects of nitrogen disposition on the mutualistic qualities of rhizobia." Nolan Foust, Kalamazoo College, Lau Lab. Mentor: Tomomi Suwa.
"Ecophysiology traits related to drought resistance in annual and perennial C3 grasses." Michelle Franklin, University of Michigan, KBS Resident Mentor. Mentor: Mike Grillo.
"Sorghum growth and production in soils from different switchgrass varieties." Katie Grantham, MSU Environmental Biology/Zoology, Gross Lab. Mentor: Karen Stahlheber.
"Safety in numbers: Bufo americanus tadpoles school together when predators are near." Maxwell Grezlik, MSU Environmental Biology/Zoology, Gross Lab. Mentor: Sara Garnett.
"Plasticity and evolution of algae cell-size under thermal stress." Farhana Haque, University of Texas - Austin, Litchman Lab. Mentors: Jakob Nalley and Daniel O'Donnell.
"Sustainable pest control in agricultural systems." Gabriel King, MSU Department of Entomology, Lau Lab. Mentor: Jeremy Jubenville.
"The effect of NOx emissions from soil on plant photosynthetic activity." Michele Lozano Dominguez, Arizona Western College, Robertson Lab. Mentor: Ilya Gelfand.
"Are competitive interactions between clover and spotted knapweed driven by evolutionary differences in rhizobia?" Gabe Price, St. Ambrose University, Lau Lab. Mentors: Jen Lau and Dylan Weese.
"Effect of rhizobia on pollination and herbivory rates." Lauren Taylor, St. Ambrose University, Lau Lab. Mentors: Jen Lau and Dylan Weese.
"How to make biodiesel" and "Effects of weed presence and spatial arrangement on a soybean and sorghum strip intercropping system." Alex Whitlow, MSU Biosystems Engineering, MSU Extension and KBS LTER. Mentors: Julie Doll, Dean Baas, Dennis Pennington, Santiago Utsumi.
"Soil nitrogen and carbon measures sensitive to management on KBS LTER." Alessandra Zuniga, New Mexico State University, Robertson Lab. Mentors: Brendan O'Neill and Christine Sprunger.
<<

Start

<

Prev

1

2 3 4 5 6 7 8 9 10 Next > End >>


Page 1 of 21