News
| | | | |
| --- | --- | --- | --- |
| MSU geological sciences professor named 2015 Soil Science Society of America Fellow | | | |
KBS Research News
Friday, 18 September 2015 16:14
Michigan State University Geological Sciences Professor and KBS Faculty member Bruno Basso was recently elected a 2015 Fellow of the Soil Science Society of America (SSSA) for his outstanding contributions to agronomy through education, national and international service, and research. Read more at MSU CNS News.
| | | | |
| --- | --- | --- | --- |
| Grant to help increase biofuel yield while limiting fertilizer use | | | |
KBS Research News
Wednesday, 16 September 2015 19:36
Michigan State has netted a $5 million grant from the U.S. Department of Energy to better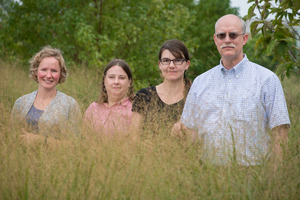 understand how biofuel crops acquire nitrogen, insights that could help maximize yields while minimizing fertilizer use.

Sarah Evans, an integrative biologist at MSU's Kellogg Biological Station, and a team of MSU colleagues will study how plants interact with microbes living near their roots to obtain nutrients, especially biofuel crops growing in abandoned farmlands, or marginal lands. Read more at MSU Today.
| | | | |
| --- | --- | --- | --- |
| Pollinator Garden Blossoms Thanks to Grant and Volunteers | | | |
KBS News
Wednesday, 26 August 2015 17:17
Kellogg Bird Sanctuary was awarded a regional Interpretive Project Grant Award from the National Association for Interpretation last fall for the beautiful Pollinator Garden. The exhibit educates visitors on the incredible significance of native Michigan plants and the pollinators that love them – birds, bees and butterflies. It's also a stop on tours and walking trails.
The grant is funding new interpretive signs for the garden. According to Kimberly Ginn, KBS Resource Center Assistant, 25 smaller signs will indicate specific plants' pollinators. Signs will include a picture of the flower and one of the birds, butterflies or insects that tend to like the plant. The signs will rotate seasonally through spring, summer and fall for the species that are presently in bloom.
Ginn hopes the new interpretive signs, co-designed with volunteer Mary Robertson, will emphasize to visitors the significance of pollinators, as well as the viability of native species as additions to home gardens. Some of the plants are native species of plants that many gardeners already use, such as wild phlox, asters, coneflowers and wild petunias. These plants are great examples of how visitors could adapt their own gardens to include more native plants, which are pollinated by native pollinators.
"Our demonstration garden shows how people can garden in different situations. We give examples of ways you can make it happen," Ginn said. There are four areas within the Pollinator Garden – a shaded area designed to attract native to Michigan bees, a full sun area with plants that enjoy average soil and moisture, a rain garden that is designed to handle a great deal of water and a xeriscape garden designed to flourish with minimal water. There are over 50 different species in the Pollinator Garden, all of which are completely pesticide-free and native to Michigan.
In addition to the smaller interpretive pollinator signs, two larger signs will educate visitors on the new bee condominium. Ginn said, "One sign will explain why you would want to attract bees in the first place, and the other one will be about the kinds of bees we're trying to attract. There are over 400 species of bees that are native to Michigan."
The bee condo and the signs that will explain it will educate visitors on the importance of bees, as well as their characteristics. The honey bee, a non-native species, has taken a major hit in its population in recent years due to the colony collapse disorder. As a result, some farmers now rent honey bee hives to pollinate their farms. "Because it's an import, it has some chinks in its immune system. We want to illustrate that you don't need the honey bees particularly; we have 400 others waiting in the wings, and we have other pollinators, too," said Ginn.
Many people assume all bees are aggressive and, as a result, are afraid of being stung if they see a bee. However, according to Ginn, this is not the case with the majority of bees. "Most of them are only interested in going about their business. They just want to make a living like anybody else," Ginn said. Ginn said she hopes the new interpretive signs will help visitors to see the value of bees and become more comfortable with them.
Thanks to the grant and a volumn discount from local native plant nursery Hidden Savannah, KBS staff and volunteers have added a diversity of native plants to the existing garden. The garden is a community effort. So far this season, KBS volunteers have given 176 hours, from high school students to senior citizens. For example, Jacob Goss, a high school senior at Gull Lake, recently applied to attend MSU next year to study landscape architecture and regularly volunteers at KBS to grow in his gardening skills and knowledge.
Most volunteers come for weekly organized work days in the garden, others come whenever they can throughout the week. Ginn says there is a great deal of flexibility in how volunteers can contribute to the garden. "They bring their ideas, and we consider everything. There is a plan, but it's open ended."
"Volunteers are passionate about it; they want to garden, and they want to learn more about native plants," Ginn said with a smile. "People have a sense of ownership in the garden. This is something we can all participate in and feel good about, environmentally speaking. It's conservation action, and it's beautiful action."
| | | | |
| --- | --- | --- | --- |
| MSU Today highlights KBS research on biofuel crops' water consumption | | | |
KBS Research News
Wednesday, 08 July 2015 18:30
Converting large tracts of the Midwest's marginal farming land to perennial biofuel crops carries with it some key unknowns, including how it could affect the balance of water between rainfall, evaporation and movement of soil water to groundwater.
A recent study from the Great Lakes Bioenergy Research Center and published in Environmental Research Letters looks at how efficiently "second generation" biofuel crops – perennial, non-food crops such as switchgrass or native grasses – use rainwater and how these crops affect overall water balance.
Read the MSU Today article here.
| | | | |
| --- | --- | --- | --- |
| MSU professor Gary Mittelbach honored as fellow of the Ecological Society of America | | | |
KBS Research News
Wednesday, 08 July 2015 16:09
Gary G. Mittelbach, Michigan State University professor of integrative biology, has been named a 2015 fellow of the Ecological Society of America (ESA) . Mittelbach, who is located at MSU's W.K. Kellogg Biological Station (KBS), is one of 24 fellows of the society who are being recognized this year for distinguished contributions to ecology. The ESA works to promote ecological science by improving communication among ecologists, raising public awareness and increasing the resources available for ecological research.
"As a graduate student, I joined the Ecological Society of America back in the late 1970s – it was my first professional society," said Mittelbach, who will be recognized at the ESA annual meeting in Baltimore in August.  "To be recognized now as an ESA Fellow is a terrific honor and a milestone in a career I've been lucky enough to enjoy here at MSU."
On a local scale, Mittelbach and his students study fish and other aquatic organisms in Michigan lakes and ponds.  At broad geographical scales, he works collaboratively with a group of ecologists, evolutionary biologists and paleontologists to address such fundamental question as why the diversity of life is so much greater in the tropics as compared to the temperate zone. Mittelbach is the author of the textbook, Community Ecology , published in 2012 by Sinauer Associates.
"I have been following Gary's research for almost 35 years, since we were both grad students, and I know that his work has earned him global recognition as a leader in the field of community ecology," said Thomas Getty, professor and chair of the MSU Department of Integrative Biology. "It is amazing what Gary has achieved on the global stage, based on his work at a little field station near Hickory Corners, Mich. Congratulations to Gary!"
"Gary Mittelbach has been a leading figure in the field of community ecology for nearly 30 years," added KBS colleague Doug Schemske, professor of plant biology. "His contributions to research and teaching have been instrumental in building the status of MSU as one of the leading institutions in the world for the study of ecological processes. He is richly deserving of recognition as ESA fellow."
| | | | |
| --- | --- | --- | --- |
| Sarah Fitzpatrick co-recipient of Outstanding Student Presentation award | | | |
KBS Research News
Wednesday, 08 July 2015 13:27
KBS Research Associate Sarah Fitzpatrick has been named a co-recipient of the W.D. Hamilton Award by the Society for the Study of Evolution for her presentation titled "Gene flow from an adaptively divergent source causes genetic rescue, not outbreeding depression, in two wild populations of Trinidadian guppies".
The W.D. Hamilton Award for Outstanding Student Presentation is awarded to current graduate students or those who earned their graduate degree within the last twelve months. This award is given to a student who has presented an outstanding talk at the annual meeting. Award winning presentations are judged on research creativity, importance of the discoveries, clear and succinct communication of ideas, and placement of research into the bigger picture.
Along with the award recognition Fitzpatrick received $1,000 and a one-year membership to the Society for the Study of Evolution.
<<

Start

<

Prev

1

2 3 4 5 6 7 8 9 10 Next > End >>


Page 1 of 23