Teaching Science Outdoors
Find us on twitter @outdoorsteach 
Share resources and connect with other teachers, join the KBS K-12 Partnership Teacher Resources Facebook Group
About the program: 
TSO will not be offered in summer 2018.  Grant funding is pending to continue in future years.
Kellogg Biological Station (KBS) has a commitment to working with K-12 science teachers.  Learn more about teacher professional development at KBS. The Teaching Science Outdoors program started in 2014 to provide an in-depth science experience for K-5 teachers.
Teaching Science Outdoors (TSO) brings elementary teachers to an outdoor environment, such as KBS or Tollgate Farm and Education Center, and allows them to practice science in a variety of outdoor habitats, with a focus on aquatic and terrestrial. Next Generation Science Standards and technology (iPads, website and google docs) are incorporated throughout the experience. Teachers develop skills to adapt existing science curriculum for the outdoor classroom, plan and carry out an investigation, analyze and interpret data and engage in argument from evidence and build a network of resources to refer back to once they return to the classroom.  Teaching Science Outdoors was created and is presented in partnership with faculty and staff from CREATE for STEM Institute and Dr. Tali Tal from Technion University.  More information about the research on TSO from CREATE for STEM Institute.
After the workshop participants will be invited to partihttp://create4stem.msu.edu/cipate in webinars and other professional development opportunities at the Kellogg Biological Station.  Districts are also able to apply for 'schoolyard improvement mini-grants' to support the purchase of materials to utilize the schoolyard as an outdoor classroom.
What to expect: Lunch and snacks are included each day. Dress to be outside for 4-6 hours each day. Teachers must bring an existing lesson plan or curriculum to adapt to using outdoors or an outdoor lesson they would like to expand or improve (ex. life science units of the Cereal City kits all have an outdoor activity).  Please also plan to bring your smartphone, tablet or laptop (school or personal).
Cost: Free, there is no charge for this program as it is generously funded by a US Environmental Protection Agency Environmental Education grant and generous private donors.
Benefits:  SCECHs (amount TBD), access to web-based resources, continued support during the school year via webinars and professional development opportunities at KBS, opportunity to apply for schoolyard improvement grant.
Who should apply?  Elementary Teachers (K-5), teams of 3 educators per school will be given priority.  Each teach should apply individually and list their teammates in the application.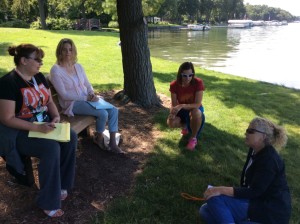 Questions?  Contact Kara Haas by email or phone (269-671-2360)
Supported by US Environmental Protection Agency: Environmental Education Grant and private donors.
Conference Presentations:
National Science Teachers Association Conference, Los Angeles, CA 2017: NSTA-2017-slides_Teaching-Science-Outdoors.pdf
Michigan Science Teachers Association Conference 2016 – blog post with links to resources!
National Science Teachers Association Conference, Nashville, TN 2016
Poster_CREATE for STEM Mini-Conference 2017
Webinars
October 19, 2016 4:15pm Webinar: Click to watch!
May 19, 2016 4pm  Webinar: click to watch!
March 10, 2016 4pm Webinar: click to watch!
February 4, 2016 Webinar: click to watch!
Links to program websites:
2017 Teaching Science Outdoors
2016 Teaching Science Outdoors
2015 Teaching Science Outdoors
2014 Teaching Science Outdoors
2017 Participants

Session 1: July 17-20, 2017 @ Kellogg Biological Station

Session 2: July 24-27, 2017 @ Tollgate Farm and Education Center in Novi, MI

2016 Participants

Session 1: July 18-22, 2016

Comstock Public Schools, Comstock STEM Academy: Laurie Anderson, Jan Kiino, Linda Foster, MacKenzie Skalski

Lakeview Community Schools, Prairieview Elementary: Andrea Cook, Angelina Straton, Deanna Overgaard, Wendy Ellis

Spring Lake Public, Jeffers Elementary: Noelle Knowles, Julie Kitchel

Whitehall, Ealy Elementary: Rebecca Parker-Sandee, Britney Christensen, Gabe Knowles

Detroit Public Schools: Tammi Long (Burton International Academy), Cindy Lilley (Mackenzie), Gloria Williams (Munger)

Session 2: August 1-5, 2016

Detroit Public Schools: Julie Wagner (Cooke Elementary School), Erin Trainor (Mann Elementary), Nourbese Campbell (Cooke Elementary)

Gull Lake Community Schools, Kellogg Elementary: Courtney Vogl, Amy Krueger, Betsy Muskovin

Summit Academy North, Summit Academy North Elementary: Stephanie Borrusch, Becky Hattner, Rachel Martin, Belinda Cleary

Battle Creek Public Schools: Jennifer Glabach (Dudley STEM School), Shannon Yaroch (Ann J Kellogg)

Bullock Creek, Floyd Elementary: Tina Pretzer, Jennifer Carey

2015 Participants

Comstock Public Schools, Comstock STEM Academy: Mary Grintals (5th), Kim Sandefur (4th)

Davison Schools, Robert C. Hahn Intermediate: Tiffany Hopper (5th), Christa Parks (5th)

Delton Kellogg, Delton Kellogg Elementary: Sara Mast (2nd), Shasta Waller

Gull Lake Community Schools, Kellogg Elementary: Janelle Holland

Lakeview Community Schools, Prairieview Elementary: Jaci Barrett (2nd), Lorelei Grosteffon (4th), Katie Bridges (4th)

Plainwell Community Schools, Gilkey Elementary: Lisa Collier (2nd)

2014 Participants

Delton Kellogg, Delton Kellogg Elementary: Lisa Kellam , Julie Renauldo

Kalamazoo Public Schools, El Sol Elementary: Sheila Buehler, Mary Mazei, Jorge Mojarro

Gull Lake Community Schools, Ryan Intermediate: Krystal Hawkins, Matt Hawkins