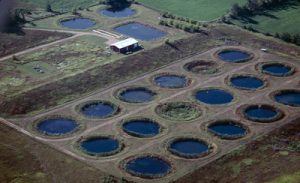 The KBS Experimental Pond Facility contains 18 experimental ponds, two holding ponds and a reservoir. Each experimental pond is approximately 30 m in dia. with a maximum depth of 2 m and is lined with vinyl plastic to prevent seepage losses.
The ponds provide a unique opportunity to experimentally study the ecology of fish, plankton, and other aquatic organisms. Water levels in the ponds can be individually controlled. Each pond has a drain controlled by a butterfly valve, and a gravity-fed water distribution system supplies each pair of ponds via a water hydrant.
The water source is a deep well which pumps into the reservoir where the water is conditioned before entering the ponds. Drainwater is piped to a discharge site. Thus, each pond can be easily drained and refilled, allowing for experimental manipulation of the entire pond community. The two larger holding ponds are similar to the experimental ponds and are used for culturing fish stocks, zooplankton, and aquatic insects, and as sites for smaller-scale enclosure (bag) experiments. The design and construction of the ponds ensures maximum uniformity in exposure, water, and basin configuration.
History
In 1971, a grant from the National Science Foundation (NSF) to Michigan State University provided funds for the construction of 18 experimental ponds, two holding ponds and a reservoir. The liners in the original 18 ponds were covered with 25 cm of compacted topsoil.
After construction, the ponds were allowed to colonize naturally with flora and fauna from surrounding lakes, and within a few years the experimental ponds closely resembled natural systems. These conditions provided the opportunity to conduct a number of significant experiments in the late 1970's and early 1980's on species interactions and habitat selection in fishes.
However, by the mid-1980's, the ponds had become choked with dense, persistent stands of macrophytes (predominantly Ceratophyllum). These conditions made many types of experiments impossible. In 1987, a grant from the NSF program for Field Stations and Marine Laboratories funded the renovation of 9 of the original 18 ponds.
In these nine ponds, the organic rich sediments and plastic liners were removed. New 20 mil PVC liners were then installed and were covered with a mixture of sand and clay (25 cm depth). This sand/clay substrate was relatively nutrient poor compared to the original topsoil. The remaining original 9 ponds were renovated in a similar manner in late summer 2000, again with support from the NSF and MSU.
These renovations successfully returned the ponds to a more pristine state, although successional processes continue to push them towards denser macrophyte cover and more eutrophic conditions through time. Total phosphorous concentration in the open water of the ponds is generally in the mesotrophic range (15-20 µg/L).
Conducting Research at the Ponds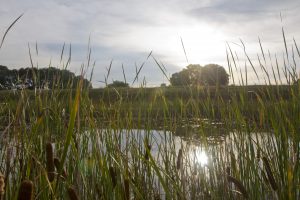 Visiting scholars as well as resident graduate students, postdocs and faculty use the Ponds for research. All use of the ponds and pond facilities requires prior approval from the Pond Site Coordinator, Gary Mittelbach. When contacting the Coordinator, please describe briefly your proposed plan of study, timetable, funding source(s) and facilities needed.
POND USE DEFINITIONS
Non-manipulative use – routine monitoring and sampling. No draining or filling of ponds involved.
Manipulative use – Draining and filling of ponds required. Experimental manipulation of pond habitats or construction of experimental enclosures (performed at user's expense).
FEE STRUCTURE
Non-manipulative use of the ponds – No charge
Non-manipulative use of the ponds, bench space in the pond laboratory – $250/month
Manipulative use of the ponds – $300/pond/year
Manipulative use of the ponds, bench space in the pond laboratory – $250/month plus pond use charge.