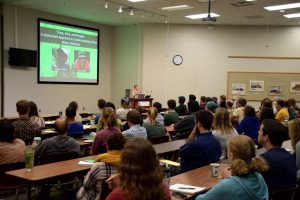 The KBS Eminent Ecologists Seminar brings well-known ecologists and evolutionary biologists to KBS each summer to interact with KBS faculty, students and staff for week-long visits. This year's speakers include Dr. Susan Alberts, Dr. Bob Holt, and Dr. Josh Schimel (Eminent Ecologists Seminar Summer 2018). The program began in Spring/Summer 1983 and has welcomed more than eighty distinguished speakers from around the globe to KBS (Eminent Ecologists 1983-2018).
'Current Topics in Ecology & Evolution' [ZOL/PLB/CSS 891] include scientists who work on a variety of important topics in ecology and evolutionary biology (see below). For more information about the course, how to enroll, or to schedule a meeting with a speaker, please contact the Graduate Teaching Assistant, Meredith Zettlemoyer (zettlem2@msu.edu), or the instructor, Dr. Nick Haddad (haddad@kbs.msu.edu).
Seminars are held in the auditorium in the Academic Building of KBS and begin at 7:30 p.m.
Eminent Ecologists for 2018
Susan Alberts, PhD, Duke University 
Professor, Departments of Biology and Evolutionary Anthropology
Website: https://sites.duke.edu/albertslab/
Dates: June 2-9, 2018
Seminars:
Monday June 4: Adversity and advantage: the influence of social environments on fitness in mammals
Wednesday June 6: Life history tradeoffs and genetic variation for social behavior in a wild primate population
Links to reading:
Archie_etal_Social_Isolation_2014
Lea_etal_2017_EMPH_dev_plasticity
Bob Holt, PhD, University of Florida 
Professor, Department of Biology & Arthur R. Marshall, Jr., Chair in Ecology
Website: https://people.clas.ufl.edu/rdholt/
Dates: July 2-5, 2018
Seminars:
Monday July 2: Reflections on "Apparent competition": a 40-year anniversary
Tuesday July 3: Ecological Niche Concepts: Stochasticity, Space, and Evolution
Links to reading:
328 Holt and Bonsall 2017 Apparent competition AREES2017
Josh Schimel, PhD, University of California Santa Barbara
Professor, Dept. Ecology, Evolution, and Marine Biology & Environmental Studies Program
Website: https://labs.eemb.ucsb.edu/schimel/josh/index.html
Dates: July 23-26, 2018
Seminars:
Monday July 23: The Biogeochemistry of Drought: linking microbial and ecosystem processes under stress
Wednesday July 25: The Arctic Plant-Soil Feedback Loop: the changing vision of soil N cycling

How to Enroll
Each speaker gives one or more informal evening lectures, open to the public, and presented in conjunction with a graduate seminar, 'Current Topics in Ecology & Evolution' [ZOL/PLB/CSS 891]. Undergraduate and graduate students may enroll in the course for either 1 or 2 credits; students who plan to fully participate in the course and attend multiple seminars are encouraged to enroll for 2 credits. Enrollment is not required to attend seminars (but encouraged).
Students enrolled in the course participate in group discussions, individual meetings and field trips with the speakers where they can discuss their research interests and future plans. While the program is designed as a graduate seminar for students in residence at KBS, undergraduate or graduate students from MSU's main campus or from other institutions are encouraged to enroll and can take the course for 1 or 2 credits depending on their interest and involvement in course activities.
Past speakers