The W.K. Kellogg Biological Station (KBS) is located on Gull Lake in southwest Michigan between Kalamazoo and Battle Creek. KBS is Michigan State University's largest off-site campus, about 65 miles from main campus.  While much of KBS is open to the public (W.K. Kellogg Manor House, Kellogg Bird Sanctuary), certain areas have restricted access for the safety of visitors and to protect research (LTER, GLBRC, Kellogg Farm).  Public areas are open Dawn to Dusk.  Explore the different printable maps below and our Visit page for more details and information.
Our address is:
W.K. Kellogg Biological Station
3700 E. Gull Lake Drive
Hickory Corners, MI 49060
Directions
Click on "To KBS" or "From KBS" to generate directions related to your location.

Printable Maps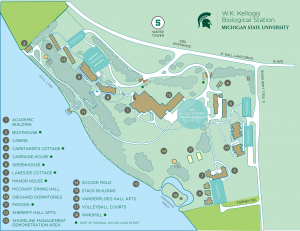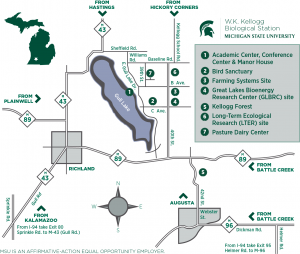 Local Map of KBS and Surrounding Areas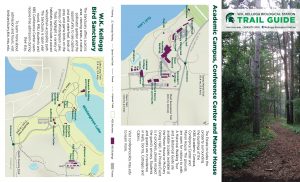 Trails of KBS (best printed on legal 8.5 x 14 in. paper)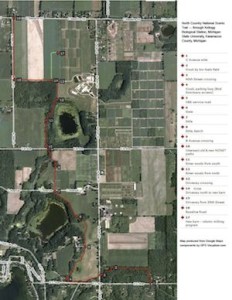 North Country Trails (KBS Segment)
Helpful hints about blue blazes and trail markers
Campus Maps