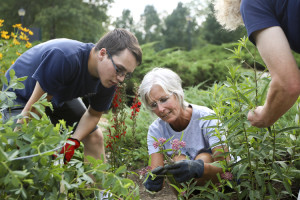 The W.K. Kellogg Bird Sanctuary was awarded a regional Interpretive Project Grant Award from the National Association for Interpretation last fall for the beautiful Pollinator Garden. The exhibit educates visitors on the incredible significance of native Michigan plants and the pollinators that love them – birds, bees and butterflies. It's also a stop on tours and walking trails.
The grant is funding new interpretive signs for the garden. According to Kimberly Ginn, KBS Resource Center Assistant, 25 smaller signs will indicate specific plants' pollinators. Signs will include a picture of the flower and one of the birds, butterflies or insects that tend to like the plant. The signs will rotate seasonally through spring, summer and fall for the species that are presently in bloom.
Ginn hopes the new interpretive signs, co-designed with volunteer Mary Robertson, will emphasize to visitors the significance of pollinators, as well as the viability of native species as additions to home gardens. Some of the plants are native species of plants that many gardeners already use, such as wild phlox, asters, coneflowers and wild petunias. These plants are great examples of how visitors could adapt their own gardens to include more native plants, which are pollinated by native pollinators.
"Our demonstration garden shows how people can garden in different situations. We give examples of ways you can make it happen," Ginn said. There are four areas within the Pollinator Garden – a shaded area designed to attract native to Michigan bees, a full sun area with plants that enjoy average soil and moisture, a rain garden that is designed to handle a great deal of water and a xeriscape garden designed to flourish with minimal water. There are over 50 different species in the Pollinator Garden, all of which are completely pesticide-free and native to Michigan.
In addition to the smaller interpretive pollinator signs, two larger signs will educate visitors on the new bee condominium. Ginn said, "One sign will explain why you would want to attract bees in the first place, and the other one will be about the kinds of bees we're trying to attract. There are over 400 species of bees that are native to Michigan."
The bee condo and the signs that will explain it will educate visitors on the importance of bees, as well as their characteristics. The honey bee, a non-native species, has taken a major hit in its population in recent years due to the colony collapse disorder. As a result, some farmers now rent honey bee hives to pollinate their farms. "Because it's an import, it has some chinks in its immune system. We want to illustrate that you don't need the honey bees particularly; we have 400 others waiting in the wings, and we have other pollinators, too," said Ginn.
Many people assume all bees are aggressive and, as a result, are afraid of being stung if they see a bee. However, according to Ginn, this is not the case with the majority of bees. "Most of them are only interested in going about their business. They just want to make a living like anybody else," Ginn said. Ginn said she hopes the new interpretive signs will help visitors to see the value of bees and become more comfortable with them.
Thanks to the grant and a volumn discount from local native plant nursery Hidden Savannah, KBS staff and volunteers have added a diversity of native plants to the existing garden. The garden is a community effort. So far this season, KBS volunteers have given 176 hours, from high school students to senior citizens. For example, Jacob Goss, a high school senior at Gull Lake, recently applied to attend MSU next year to study landscape architecture and regularly volunteers at KBS to grow in his gardening skills and knowledge.
Most volunteers come for weekly organized work days in the garden, others come whenever they can throughout the week. Ginn says there is a great deal of flexibility in how volunteers can contribute to the garden. "They bring their ideas, and we consider everything. There is a plan, but it's open ended."
"Volunteers are passionate about it; they want to garden, and they want to learn more about native plants," Ginn said with a smile. "People have a sense of ownership in the garden. This is something we can all participate in and feel good about, environmentally speaking. It's conservation action, and it's beautiful action."