Fellow Educators,
Take yourself back to the distant past, to the 2012-2013 academic year. The year that the Summer Institute was a glorious week long, and the Spring Workshop had an early 2000's rap theme ("99 Problems But A Root Ain't One"). Well, we have some great news, some of those GK-12 fellows are back, and ready to help keep the K-12 Partnership going strong! Tyler Bassett, Cara Krieg, Michael Kuczynski and Jake Nalley are back! As you might remember, all of them are graduate students at the Kellogg Biological Station and more information on what they are up to at KBS and why they love working with the K-12 Partnership can be seen below. Michael and Cara are working under the direction of Tom Getty to round out the GK-12 BEST Plot Project. They are focusing on polishing the many lessons the fellows developed throughout the years and they are even taking the brave plunge to begin deciphering the BEST Plot data to generate some publications. Jake and Tyler are working directly with the K-12 Partnership under the guidance of Kara Haas. Jake and Tyler are working in a similar to the traditional GK-12 Fellow arrangement, just with less connection to a single school and more broadly available to any district, school and age level. One of the "most liked" aspects of the GK-12 partnership (by both teachers and fellows) was fellows visiting the classroom and interacting with students. So to continue this, Jake, Tyler and Michael are currently each developing a lesson that will showcase their personal research focus.
Invite a fellow into your classroom, email gk12fellows at kbs.msu.edu to make a request!
Biographies of our current 2015-2016 Fellows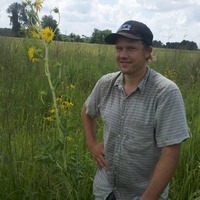 Tyler Bassett: Plants are everywhere, and everywhere they are different. If you love plants as much as I do, all of that biodiversity makes the world an endlessly curious place. Why is that species here . . . and not there? How have certain plant species come to form the plant communities we see today? How is each community differently responsible for providing the clean air, pollinator habitat, and all the other 'services' that nature provides, free of charge? As a scientist, I explore questions like these in order to understand how to better restore damaged ecosystems. The better we understand how nature works, the better we can put the pieces back together. Working with the K-12 partnership gives me an opportunity to pass on my passion and curiosity about the natural world. Teaching science by doing science gives students the skills to understand both the wonder and the value of biodiversity, and be more willing to protect it. I am excited to do my small part to facilitate that process.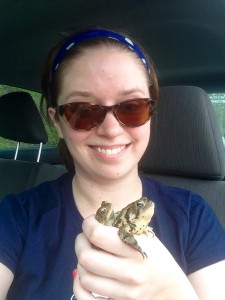 Sara Garnett: Like most people with siblings, I am familiar with the potential for conflict in family relationships. Despite frequent competition with brothers and sisters for toys, parental attention, and access to the remote, you still love them and want them to succeed. This pattern is not unique to human families; seeking a balance between cooperation and competition happens in a wide variety of animals. We?re used to thinking about nature as a competitive place, where only intense fighting for shelter, food, and mates will bring success, but we see individuals put themselves at greater risk to predators or compete less intensely for food or mates when relatives are involved. Because relatives share at least some of the same genes, behaving in ways that help relatives survive and reproduce can be an effective strategy for an individual to pass its genes on to the next generation. This raises questions about when it is best for an individual to focus on itself vs. its relatives, as well as the strategies animals use to maintain this balance.
My research examines these questions using American toad tadpoles.
They prefer to swim near siblings rather than non-siblings in their birth ponds, using chemicals in the water to tell them apart. I am investigating whether these chemicals might provide information that influence how quickly tadpoles grow and develop, or how intensely they compete for food. In particular, I am interested in whether they respond differently to siblings than non-relatives in different environments. By looking at how these factors influence tadpole growth, I can get an idea of how tadpoles improve the chance that they (and their siblings) will make it out of the pond in a variety of environmental conditions.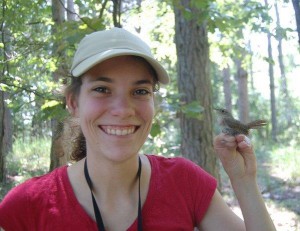 Cara Krieg: My name is Cara Krieg. I'm a scientist and I study female behavior in songbirds. I'm excited to be working with the K-12 partnership because I love getting students excited about science too! Have you ever heard the saying "men are from Mars and women are from Venus?" Have you ever wondered how much of this is a product of biology and how much is a result of culture? Many scientists expect male animals to be aggressive. However, it turns out many female animals are aggressive too! I explore this under-studied female behavior in a population of house wrens nesting at KBS. Using recordings to simulate fights in the field, I study why females fight, what benefits they might gain, and how this behavior is different from males. Do the demands of raising babies prevent one sex from being very aggressive? Does aggression provide a bigger benefit for the other sex? Or are the sexes more similar than we think?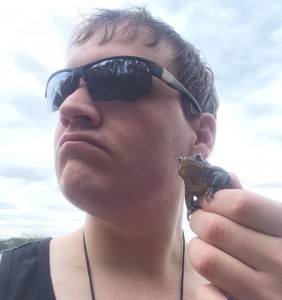 Michael Kuczynski: My name is Michael Kuczynski, I am a graduate student here at KBS studying the mating behaviors of local frogs and toads. If you have ever lived near a pond or swamp then chances are every spring your nights were filled with the sounds of singing frogs. Male frogs form these large choruses to attract females. We know that females in some species prefer to mate with males that call at a high rate and produce long calls; however, not every male calls this way. Why wouldn't every male try to call as frequently and as long as possible? Well one reason is that calling is costly; singing takes a lot of energy and exposes the frog to predators. In my research I study the causes behind individual variation in mating behavior, focusing specifically on the influence of age, size and physical condition on mate attraction and mate choice. I am interested in questions such as whether males that are older or in poor condition take greater risks or put greater effort into attracting mates because they are near the end of their lives and have less to lose if they are captured by a predator. Additionally, I am also interested in how size and age influence female choosiness in selecting a mate. I am very excited to be working with the K-12 partnership because science education, especially at the younger levels, is extremely important. Exposing students to the scientific method and scientific thinking at an early age builds scientific literacy which is crucial for a society faced with complex scientific problems such as global climate change. Additionally, having graduate students interact and share their research with K-12 classrooms provides students with a better understanding of what it means to be a scientist (we don't always wear lab coats and have crazy hair) while exposing them to the numerous different fields of scientific inquiry. This in turn may serve to inspire the future generation of researchers and scientists.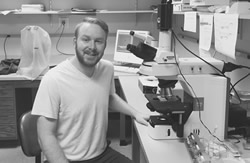 Jakob Nalley: As we continue to consume natural resources at extremely high rates, exterminate species, and pollute the environment around us, developing a more sustainable role for humans in the environment is extremely important. My research focuses on our energy consumption, mainly on identifying an alternative fuel source to the traditional fossil fuel supplies humans have quickly diminished. I believe one answer could be algae. Algae can produce loads of fuel on undesirable lands, all while sucking the greenhouse gas carbon dioxide out of the atmosphere to fuel its rapid growth. My research into alternative fuel sources stems from a deep passion for understanding how, as humans, we can continue to develop as a society while maintaining our status as stewards of the Earth. I feel that my love for applying science to solve complex environmental issues perfectly aligns with my passion for science outreach and K-12 education. Science is incredible in that it can demystify the world around us, making it more approachable and exciting. But energizing students for STEM careers requires educators to be innovative, exposing students to interactive and experiential curriculum. Developing and implementing some of these interactive lessons is what draws me to science education. The world is an amazing place, understanding