Dessert with Discussion: Historical and projected future climate in Michigan
and the Great Lakes Region
Tuesday, May 3, 2016 in the Kellogg Biological Station Auditorium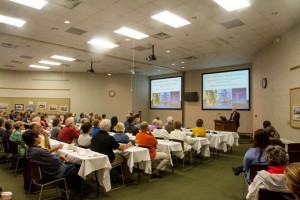 Join us for another fascinating Dessert with Discussion, featuring state of Michigan's climatologist and a professor in the Department of Geography at Michigan State University Dr. Jeff Andresen.
Learn the history of Michigan's climate and how it has shaped our state's natural resource base
Reflect on changes in Michigan's climate, including warmer winters and more annual precipitation
Hear how scientists are working to predict climate and what the projections suggest about future climatic conditions in Michigan
Jeff Andresen, Associate Professor of Meteorology/Climatology in the Department of Geography, the State Climatologist for Michigan, and co-director for the Enviro-weather Program. His research and extension interests focus on weather and climate on agriculture, especially within Michigan and the Great Lakes Region. Current and past themes include; climatological trends and potential impacts, water use for agricultural irrigation, potential future changes in climate, and weather and risk management in agricultural production and plant protection.
Enjoy coffee, tea and delicious locally sourced desserts provided by the KBS Conference Center. A cash bar featuring house wines and Michigan craft beer available prior to the event.
Doors open at 6 p.m., talk from 6:30 to 7:30 p.m.
Visit informational booths before and after the talk to learn more!
KBS Long-term Ecological Research

Kalamazoo Wild Ones / Monarch Watch
Michigan Climate Action Network


MSU Environmental Science & Policy Program

KVCC / Bronson Healthy Living Campus

This event is FREE, however registration is appreciated.
Non-profit organizations and businesses are invited to host informational booths and become an event sponsor!
Live Stream available the night of the event.