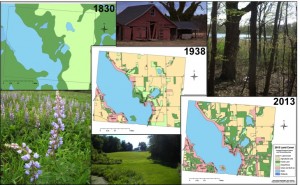 Human activities have significantly altered the biosphere, sometimes damaging or destroying natural habitats and causing the extinction of other species. But changes to Earth's environments can have different impacts (negative and positive) for different living things. Typically, as human populations and per-capita consumption of natural resources increase, so do the negative impacts on Earth, unless the activities and technologies involved are engineered otherwise. In this lesson, students track land use change from a 'natural' reference state (1830) to pre-WWII (1938) to the current time (2013), develop predictions, and use qualitative or quantitative data to evaluate the impacts of land use change. Created by Mark Hammond, Tyler Bassett, Shaun Davis 2016, updated 2017
Handouts & Presentations:
All handouts and presentations can be found here: Lessons of History: Land Use Change 1830-2013 (will open a folder in google drive)
We recommend starting with the Lesson Plan which explains all the other documents.
Data Sheet_Land Use Lesson (excel)

Figures_Land Use Lesson (7 pages, PDF)

Lesson Plan

Maps and grids 8.5×11 format (3 maps, 1 grid – to be printed on transparency/overhead projector film) (pdf or ppt)

Elementary Maps with incorporated grids (3 maps) (pdf or ppt)

Presentation_Land Use Lesson: "Learning the Lessons of History" (ppt)

Article_Science Magazine_2005 Foley

Worksheet_Land Use Lesson(3 pages, Word doc)
Summary of the Land Use History Kit (High School, Middle School, Elementary)
Set of 20 laminated maps from each time period (1830s, 1938, 2013)

Transparency Grids

Laminated aerial photos of area

Teacher's guide

Set of wooden puzzles of maps from each time period (1830s, 1938, 2013)

Animal figurines (black bear, cougar, wolf, raccoon, white-tailed deer, bald eagle)

Animal natural history fact cards
Kit is available for teachers within driving distance of the Kellogg Biological Station. How to borrow a Kit: Click here to see what is available, please email Kara Haas to confirm your reservation and arrange to pick it up or have it delivered. Fellows can help with implementing the protocols with your students, so ask Kara about that too.