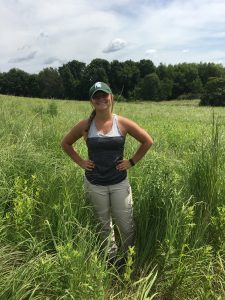 I wake up with my alarm, and before I even open my eyes I can feel the sunlight pouring on my face, beckoning me to start my day. After I finish my morning routine, it's off to start my day with breakfast. I say hello to the lady sitting at the counter and show her my meal ticket.
I pour a cup of water and fill myself up a mug of morning ambrosia. I get myself a bowl of granola, and plop myself down next to my friends, where I sit for a few minutes trying to wake up. I eat, and when the clock hits 8:55, it is time for me to meet up with Chad (my mentor).
I get in the car, and Chad and I head off to the field lab to get some supplies for my greenhouse experiment; today we are setting it up. We grab the seeds from the lab, and head back to the greenhouse where I spend most of my time (pictured at lower right). We spend a better part of the day labeling tags and planting seeds in little tiny seed trays. At 11:55, Chad says it is time for lunch. After the best lunch ever of lasagna, garlic bread and cherry amaretto ice cream (my favorite), we head back to finish planting, then talk about my experiment and the poster I am making about it.
My experiment is simple in thought: We grow up 12 prairie species from 3 different seed sources to see if there are differences in functional traits. It all sounds really good until we get into the nitty-gritty of definitions and why all of this is important (which, mind you, it is, because of climate change).
But first, I need to tell you why prairie restoration is so important. Ever since the U.S. became inhabited by Europeans, humans destroyed extremely fertile prairies to grow crops. Since then, 99.9% of native prairies have been destroyed. Therefore, it is imperative that we restore former agricultural fields to native prairie landscapes to make up for habitat destruction and fragmentation. It is also important to look at why seed sources may be different because a southern species may be better able to survive a drought than a local species.
Chad and I come up with the topics and introduction for my poster, and it is time to leave. Since it is Tuesday, it is time to play volleyball! I head out to the courts where a few people are hitting the ball around before the game gets started. My team loses (mostly because of me) and we head off to dinner. After dinner, the URAs and REUs head to professional development to learn about effectively communicating our science.
Finally, we are done for the day. Everyone heads down to the dock to watch the sunset over stunning Gull Lake, and then we all go in different directions. Some head to a bonfire, others head to a friend's apartment to hang out, but I go back to my apartment. I turn on Netflix to watch Bones, but before the intro is even over I fall asleep.
Alex Walus was a URA in the Brudvig lab for the summer of 2016, and was supervised by Chad Zirbel. She is a junior at Michigan State University in the College of Natural Science, studying Environmental Biology.