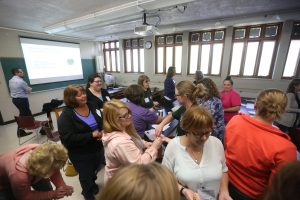 Grass-fed cars, electric fish, and marbles, anyone? Using those tools, on April 18, local K-12 teachers came to KBS for a day of professional development (PD) and learned about ecology and evolution education. Teachers participated from 16 districts, including Battle Creek Public, Comstock, and Gull Lake.
The K-12 Partnership Spring Workshop is an opportunity for teachers to get up close and personal with science in a real and accessible way. According to KBS Science Education Fellow Heather Kittredge, "Workshop sessions always introduce a hands-on activity involving data collection and analysis, which is important in helping students understand the scientific process and that scientific conclusions are data-driven inferences."
KBS postdoctoral researcher Will West led a workshop session for middle school and high school teachers on greenhouse gases, using a group activity where participants traded different colors of marbles to illustrate carbon exchanges (pictured above right). Another session for elementary school teachers, "Fun with the Sun: Patterns from the Sky," used shadows to illustrate the earth's rotation around the sun (pictured below right).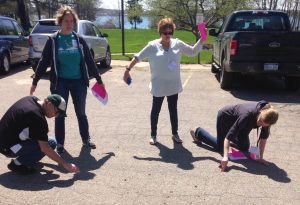 The workshop featured a morning presentation from Kay Holekamp, an MSU professor in the Department of Integrative Biology. Dr. Holekamp shared her research on hyenas in her presentation, "The Evolution of Intelligence in Mammalian Carnivores." It was well-received by participants, one of which remarked that "It was an honor to listen to such a distinguished and passionate researcher," citing that the plenary talks from researchers are their favorite part of workshops.
"Our PD is one of the few where teachers actually interact with 'real scientists,' not just other science educators," said Kara Haas, KBS Science Education and Outreach Coordinator. "It's also a unique experience for MSU faculty and graduate students to share their science with a passionate audience who are able to share broadly what they have learned."
In their evaluations, the teachers talked about how important and helpful it was to have new ideas for lesson plans, activities and strategies that they could implement. One remarked on how beneficial the content of the workshop was in the midst of having to adapt to new Next Generation Science Standards for science education. Another participant said, "The new science knowledge I learned on various topics is something I can share with my students in classroom discussions and it shows them I have a passion and interest in lifelong learning myself."
"Textbooks only tell part of the story and often we only learn about the successes of science, not the struggle and passion that most scientists have for their area of study," said Haas. "The KBS K-12 Partnership workshops offer teachers a chance to learn about research that is being conducted and the questions scientists are asking right now."
As a result of the K-12 Partnership, Haas & Kittredge hope teachers will be able to use lesson plans and tools they've learned about here, and that researchers will have opportunities to visit classrooms to share their science. To learn more about the KBS K-12 Partnership, visit us online.