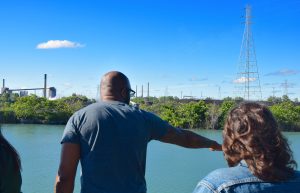 This summer, I took WRA 341: Nature and Environmental Writing, which offers students a chance to work on developing professional content in multiple formats in subjects like environmental justice.
On June 7, I went with a group of my classmates on a field trip to Detroit with professor Dr. Donnie Sackey (pictured at right). Sackey is a professor of rhetoric and composition at Wayne State University in Detroit. Sackey taught WRA 341 at KBS in previous years. He offered students a chance to observe locations spoken about in a lecture on Detroit given before the trip. Sackey also provided students the opportunity to meet with individuals representing different organizations such as Detroit Sierra Club, Detroiters Working for Environmental Justice (DWEJ) and Zero Waste Detroit.
During our visit, we were shown textbook examples of environmental racism in Detroit's residential communities. We visited Delray, a neighborhood (and former incorporated village) which resides along the Detroit River. Sackey informed us of the extreme environmental pollution which has afflicted Delray residents for decades. The city has allowed corporations to marginalize Delray's minority population, with ongoing approved industrial pollution in the immediate area.
Delray is nearby what is considered the most polluted zip code in Michigan (48217) and one of the most polluted in the US. Sackey explained to students the effects of refineries like this one on the local population, like higher asthma rates in children. Residents in Delray believe that pollutants from factories are released at night or whenever air pollution isn't being monitored, sneaking out their toxic emissions to foil regulators.
Once we arrived, we first looked at the Marathon Petroleum oil refinery, which in 2013 saw one of it's own oil tanks explode, endangering area residents. It is also surrounded by U.S. Steel Great Lakes Works (on Zug Island), Lafarge Cement, the Detroit Salt Company, both DTE's coal-fired plant and River Rouge Power Plant as well as many others in the area.
This residential area is isolated from the rest of the city by industrial refineries and a portion of Interstate-75. The freeway is an incredible source of noise pollution, heat, smelly exhaust fumes and carbon monoxide as daily commuters stall in heavy traffic. Because of its role as a connector between Canada and the US, I-75 carries an extremely high volume of traffic, which results in exhaust-spewing semi-trucks sitting still up to an hour at a time, right next to residential neighborhoods, without shutting off their engines.
The I-75 expressway runs alongside minority communities in Detroit, straddling the neighborhoods of Delray, isolating residents from the reviving Mexican Town and Hubbard neighborhoods. The high traffic, eight-lane expressway connects motorists to Canada via the Ambassador Bridge just outside of Delray. However, due to a poorly engineered entry point to Canada (among other design flaws), a new bridge was proposed in 2004 to connect Detroit and the Windsor area, now dubbed the Gordie Howe International Crossing, led by Canadian entity Windsor-Detroit Bridge Authority.
Throughout a controversial and lengthy planning phase (which is still ongoing), the location of its main entryway was considered in several locations–an entryway no one wanted in their backyard. Where did the city decide would cause the least uproar? Delray.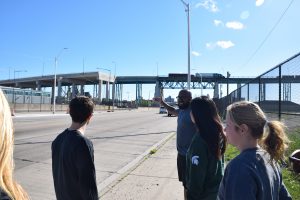 This was just another development in a running series of city-approved projects in and surrounding Delray, leaving a community to wonder if any officials care about their predominantly-black, low-income neighborhoods. Residents say the city stopped caring about them long ago.
The people of Delray have a special connection to this area, and although many have left, and many still hope to, there are members in this community who refuse to leave despite how much worse things continue getting.
Delray, annexed by Detroit in 1905, still holds an important historical significance, as many of these families were first established in this neighborhood when they moved north to escape slavery in the South. Many found their life of freedom in Delray working at Detroit factories after escaping slavery and a segregated South, taking their chance at building a life free from slavery for the first time.
Many homes have been left abandoned or burned down. Over 150 structures needing to be boarded up with blight and illegal dumping found on over 170 lots. Poverty is high, and pollution is an incorporated part of its urban ecosystem, and the massive Gordie Howe international trade crossing is about to run straight through the middle of it.
Despite its continued declining state, and the incoming new bridge, many still live in Delray. The community is home to around 2,750 people, approximately 28 percent of residents under 18 years old and 43 percent are living below the poverty line.
As the US auto industry wavered and evolved over the decades, Delray residents' opportunity to achieve freedom is now imprisoning these people in their own community in blighted homes and acres of overgrown, abandoned areas. This landscape is the outcome of numerous small and large construction projects which have interrupted and displaced communities and businesses, forcing lifelong residents and small business owners to find obtain new housing with little support.
Unfortunately, it is difficult to track illnesses related to pollution if people are moving away. This is because the ongoing health of these people can't be studied for correlations between an environment and it's inhabitants once they've left that environment.. Yet it is totally within a person's right and welfare to move somewhere safer and healthier. This has made displacement even more complicated, Sackey explained, as it reduces any chance of proving that people are being harmed by the lack of regulation, leaving those who remain without much of a fight in court. That is, if money was available to even sue.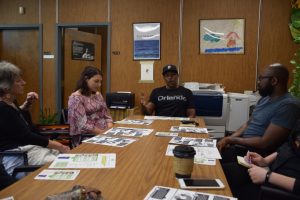 Businesses in Delray rarely comply with environmental regulations and law, Sackey said. Local industries know that the Michigan Department of Environmental Quality (MDEQ) is overworked and isn't focusing resources on places like Delray, Sackey explained, where it is cheaper for companies to pay fines and legal fees than to implement regulations, and cheaper to dump waste instead of properly disposing of it. What can be done to keep these powerful entities in check? On whom does responsibility fall to make that happen? It was time to meet the boots on the ground.
Our group proceeded to meet with representatives of environmental groups Zero Waste Detroit, Detroiters Working for Environmental Justice and the Detroit chapter of the Sierra Club, and learned how people involved in these organizations are doing the real work at the political level to make tangible changes happen in their cities.
These meetings taught me the key role communication has in initiating the changes needed to improve standards of living. Something that stuck with me was learning from these environmental justice organizations how many of their past efforts in the local political arena had failed. It wasn't until they improved their communication strategies that the right people began to pay attention and listen to their calls for political action.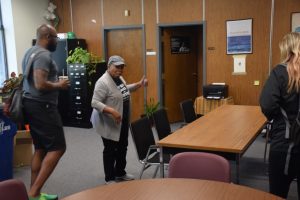 In addition to this focus on effective communication, I also heard accounts from the leaders of these organizations of the value of collaboration with others in their community. Partnering with other local groups with shared goals can help grow strong community relationships, and working with legal representatives that know and care about the well being of their community can really initiate change. Yet it's also just meeting people who've been living their entire lives being impacted by institutional and environmental racism.
As a white male, it was all too easy for me to grow up assuming most people didn't face any of the realities minority communities have been facing since the beginning. Because of my narrow exposure and a willful ignorance, I never knew how common stories like Delray are. I didn't grow up with industrial complexes in my backyard or risk developing diseases because of the air and water I use every day, because I'm middle-class and white.
All throughout the US there are low-income, minority communities that bear the industrial pollution brunt for the rest of us. Many people have been unbelievably disadvantage throughout their family's history, and face daily discriminated in the job market and used by their local representatives' empty promises to win elections. It then falls on these communities to unite and fight a system that has long neglected and directly harmed them. This can be difficult for broken neighborhoods afflicted by poverty, crime and hierarchical abuse.
It's so easy for a white person to leave minority communities in their own city to fend for themselves, instead of getting to know people and asking community leaders what actions must be done and how we should contribute. My call to action is to learn every organization in your city that are tackling these crucial issues and consider how you and any entities you are affiliated with may offer meaningful partnerships with them.
Evan Kutz is the 2017 KBS Communications and Media Intern. He is a senior at Michigan State University studying Environmental Journalism.