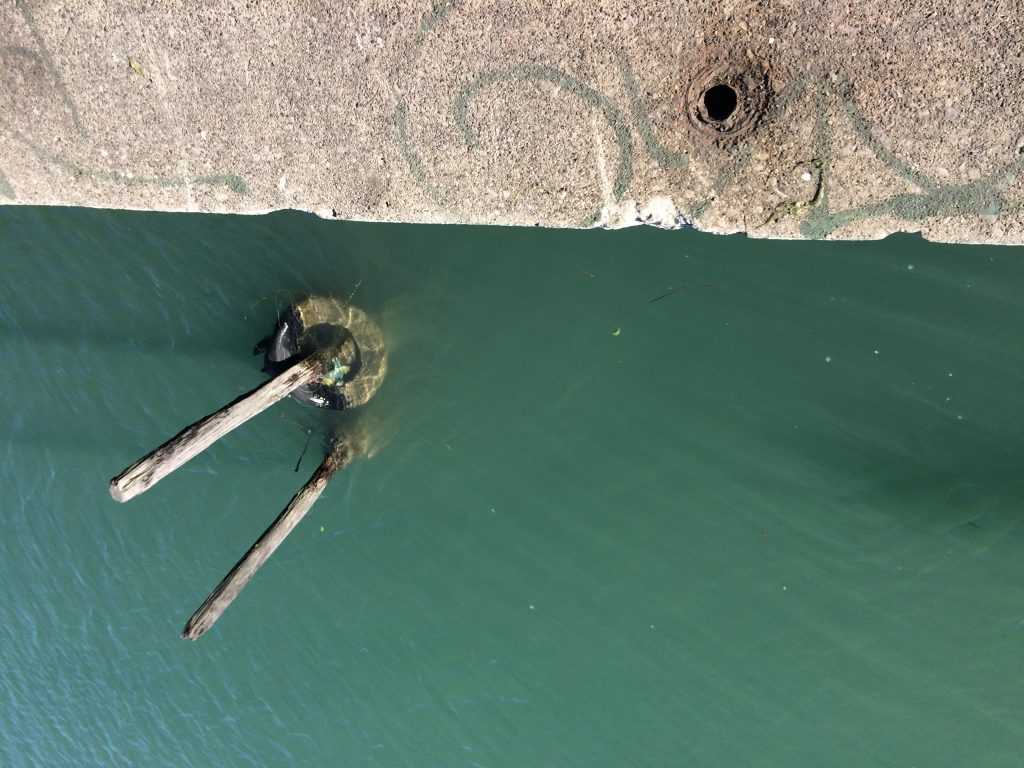 I grew up less than an hour from Detroit, in an area so suburban that residents have complained about the color of the flowers people plant in their yards. Growing up, I only visited three places in Detroit— the Detroit Institute of Art, Greektown, and Comerica Park. Still, I felt like to some extent I knew the city. On June 7, I visited Detroit as part of an Environmental Justice field trip for the Nature and Environment Writing course at KBS.
Led by Donnie Sackey, Assistant Professor at Wayne State University and writer in residence at KBS, we started our morning in the Delray district of Detroit, the anticipated site of the new U.S.- Canada bridge. Delray is surrounded by industry on all sides, and its residents are primarily black and low income.
At the community center, where children play on a playground next to I-75, Donnie told us that , a truck transporting oil fell from the freeway, causing a fire at the community center. He also told us that every day around rush hour, the air would be so thick with car exhaust that it would be difficult to breathe.
We stopped at a small channel, pictured above, that is subject to polluted runoff from nearby industry, and has turned green as a result. "People fish here, and a lot of them will eat the fish from this water" Donnie told us. Fish living in that water probably shouldn't be eaten.
From here, we went to talk to a group of people who deal with issues of environmental justice, from environmental lawyers to nonprofits like DWEJ works to ensure a clean and safe community in Detroit, through policy, education, and even workforce initiatives. DWEJ is working on a Climate Action Plan for Detroit, hosts environmental justice tours, and in partnership with Detroit Public Schools, has hosted two youth climate summits.
One of the workforce initiatives we heard about, the Workforce Development Program, trains residents in both practical and technical skills allowing them to enter the workforce in environmental and construction industries. Through talking with both DWEJ and environmental lawyers, we were able to see people working on real solutions to combat Delray's problems.
For me, the next two groups we met with were the most impactful, because I was looking directly at the impact of my own waste. When meeting with the Sierra Club's Detroit office and Zero Waste Detroit, I learned that the metropolitan areas surrounding Detroit, including my hometown, send their trash into Detroit to be incinerated. The Detroit incinerator compromises the air quality in Detroit, giving the communities in these areas asthma, cancer, and other respiratory diseases.
Moreover, a study by the Michigan Department of Health and Human Services found a 29% higher prevalence of asthma in Detroit adults compared to the rest of Michigan.
This was by far the most jarring moment of the field trip for me; realizing that my own trash was not only being irresponsibly disposed of, but was actively causing harm to other people. Waste that myself and my family produce gets funneled into this incinerator, burned, and then negatively affects the air quality of residents in the area, leading to the increased prevalence of respiratory diseases and asthma in Detroit.
I came back to KBS with a different view of Detroit, a more self-aware view of waste, and through the Sierra Club Detroit, a way to do something about it. Later this summer, Lauren, another KBS intern, and I will be working with the Sierra Club Detroit on web development to help tell environmental justice stories in Detroit.
Beyond this, the experience also helped me see how harmful ignorance can be. Not knowing about the effects of my waste, and not caring enough to research it, has negatively affected lives. This experience has not only led me to be more conscious about what happens to my own waste, but has also helped me have conversations with other people about the impact of their waste as well.
Maddy Marquardt is the 2017 KBS Communications and Development Intern, and is a senior at Michigan State University studying Professional Writing and Neuroscience.