The KBS K-12 Partnership runs on the creative energy of graduate students interested in outreach. The 2017-18 Science Education Fellows are:
Susan Magnoli
PhD Candidate in the Lau Lab, Department of Plant Biology
We usually think of plants as being sedentary organisms—after all, they are rooted in the ground. But seeds can be pretty good travelers, whether they're picked up by the wind, hitch a ride with animals, or are transported around (intentionally or unintentionally) by humans. When seeds move they can establish new plant populations in new habitats. But new habitats are usually different than the original habitat a population came from, meaning colonizing populations can interact with new species or experience different environmental conditions. Whether they can adapt to new conditions or not can influence whether they successfully colonize a new area.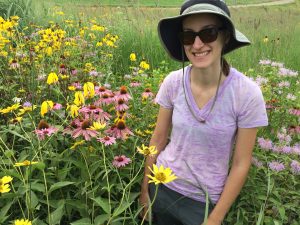 My research focuses on rapid evolution in restorations. Restorations can be really novel habitats; we often get seeds of species from a lot of different places and plant them into sites that have been previously degraded. I want to know if plant populations colonizing prairie restoration sites rapidly adapt to new conditions, and whether this adaptation actually helps populations successfully establish. I hope that my research leads to a better understanding of how evolution can affect colonization success and help make restorations more successful.
I am excited to be a K-12 fellow this year! I look forward to working with teachers to bring plant, ecology, and evolution related activities to the classroom.
Contact Susan at magnolis at msu.edu
Heather Kittredge
PhD Student in the Evans Lab, Department of Integrative Biology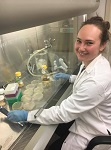 Microbes are everywhere! It is estimated that one gram of soil harbors 10,000 to 50,000 different species, but it is unclear how these different species contribute to ecosystem processes such as plant growth, decomposition or CO2 emissions. This is particularly important when rates of environmental change exceed the capacity for microbial populations to adapt, leading to the loss of many microbes and the loss of ecosystem services provided by microbial communities.
To better understand the potential for microbial communities to adapt to environmental change, I study the process of new genes entering a community and restoring ecosystem services. Genes that enter a community through migration could save microbial communities OR beneficial genes that are already present in a community could be transferred between bacteria. The swapping of genes is a capability unique to microbes and has largely contributed to the vast diversity of microbial life on earth, but this process is rarely studied in complex systems such as soil. To better understand how bacterial gene swapping influences ecosystem processes, I quantify the DNA available for bacteria to pick up and how this process forces bacterial evolution.
If scientists want to accurately predict how the environmental will react to rapid environmental changes, we must understand the evolutionary trajectory of microbial communities in complex environments. I hope to contribute to our understanding of bacterial evolution in my dissertation and I am always excited to talk specifically about my work or talk more generally about the importance of microbes. It is an exciting time to work with microbes in any capacity, whether it is mathematical modeling, biochemistry or genetics so feel free to ask me how microbes could fit into your curriculum!
Contact Heather at kittred8 at msu.edu
Invite a Fellow to visit your classroom:
Each year, KBS-based graduate students in ecology, evolutionary biology and behavior serve as Science Education Fellows with the KBS K-12 Partnership and are available to visit classrooms to facilitate or assist with one of the many lesson plans created over the years through the Partnership.
KBS Science Education Fellowships are funded by the MSU Graduate School.