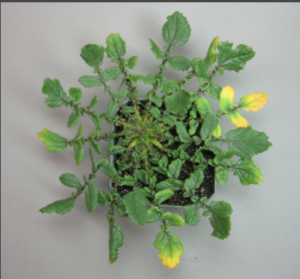 I gained the opportunity to work at KBS because of a friend who had worked at KBS last summer and really enjoyed it. It even inspired her to change her major, and I decided to apply because of what she told me!
I am a laboratory animal science student, and although KBS did not inspire me to change my major, I learned a lot about radishes and have a new found appreciation and respect for ecologists and plant biologists.
This was my first time ever doing anything related to plant research. I have always been into working with animals and human medicine, and when I found out this would work with plant genetics, I wanted to give it a shot.
When I was accepted into the REU program, I was excited. I originally thought it would be on MSU's main campus, but discovered it was in rural Hickory Corners! I had wanted to get away from the city life for a while and this was my opportunity.
When I arrived, I met some really cool people from all over the east coast and Midwest. We spent time canoeing, playing Uno, talking about everything, and exploring the surrounding area. I really enjoyed these people! At lunch and dinner we would tell each other about our projects, and our failures and our successes.
My summer research focused on native and weedy radish species. The native is from the Mediterranean, and the weedy radish has evolved from native radish to become one of the world's worst agricultural crop weeds. It is on almost every continent, and takes over fields.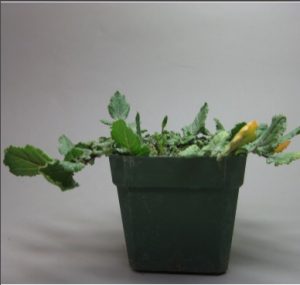 My project was to apply Gibberellic acid (GA), a plant hormone, to two species of native radish (AZES & DEES) and two species of weedy radish (AFFR & BINY) to see if it would cause the native radish to show phenotypic similarities to the weedy radish.
In the beginning it started off pretty slow. My mentor and I cracked seeds and planted them. Then it was a waiting game, but once they started to grow, it was a steady process. We used water and toothpicks to mark the status of the plants. I was very excited when they began to sprout leaves, and then eventually got "true leaves". I faced a setback when a number of plants began wilting, but at the end of the summer, I ended up with some pretty cool results.
The question being asked, "Was GA involved in the evolution of native to weedy radish?"; was given an answer with my data. My results showed that it is indeed possible to say the GA was involved in the evolution of native to weedy radish. The field results were not the best, but the results from the greenhouse showed significance in rosette leaf height and number. That is a big step in understanding how the radish evolved.
My summer at KBS was a memorable one, and it was my first experience with research. I will carry it with me as I continue to do more research in the future.
Daijah Scott is a junior at North Carolina Agricultural and Technical State University in Greensboro, North Carolina, studying Lab Animal Science. She was in the Research Experiences for Undergrads (REU) program at KBS for the summer of 2017, in the Conner lab.