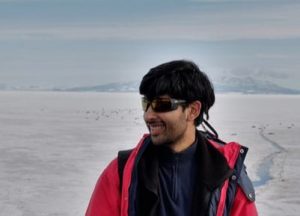 In 2007 Mridul Thomas arrived in Hickory Corners from India to pursue a Ph.D. in Elena Litchman's lab. Since earning his Ph.D. in Zoology and Ecology, Evolutionary Biology & Behavior from MSU, Thomas spent almost three years as a postdoctoral researcher in Switzerland and recently participated in a month-long Antarctic training program on biological adaptation to environmental change at the McMurdo Station in Antarctica.
Currently Thomas is a postdoctoral researcher at the Centre for Ocean Life at the Technical University of Denmark.
We congratulate Mridul, who was recently awarded a prestigious Marie Curie fellowship from the European Union for his work at the Centre for Ocean Life.
By studying patterns in ecological communities, Thomas hopes to understand how species' competitive strategies are shaped by their environment and evolutionary constraints. These findings allow us to better understand the fundamental forces shaping communities. With major environmental changes underway, this may be the most promising approach to understanding what future ecosystems will look like.
Congratulations Mridul!