Katherine (Kay) Gross has stepped down as KBS Director after 14 years in that position, and over 30 years total spent at KBS. Her leadership has brought KBS immeasurable gains, and we appreciate all she has done for our community.
Although she is no longer director, she will continue to work as a faculty member for another two years before retiring. Her journey with KBS has been a long one marked by rigorous research and outstanding outreach.
In 1980 Kay earned a Ph.D. in zoology from Michigan State University at KBS. After some time working at the Ohio State University, she returned to KBS in 1987, serving on the faculty until becoming interim director in 2004, with a research focus on the causes and consequences of species diversity in plant communities.
In 2005 Kay was named both an MSU University Distinguished Professor and director of KBS. Over 140 peer-reviewed publications with over 12,000 citations have resulted from the work done by Kay and members of the Gross Lab over the years.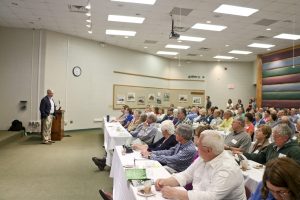 Under her leadership, KBS has provided undergraduates with invaluable research and educational experiences, and residential graduate students the research opportunities of a lifetime. Additionally, we've been able to offer incredible public programs like Dessert with Discussion (pictured at right).
Dessert with Discussion (DwD) stemmed from a conversation between Kay and Rick Foster (retired VP of Programs at WKKF and MSU Professor) as an outreach event to share MSU/KBS research with the local community. To date, 27 DwD events have been held. Since 2005 DwD has changed and grown, becoming a signature event in the community, often overflowing the capacity of the Auditorium!
While we continue our search for a new director, KBS professor Jeff Conner (in MSU's Department of Plant Biology) has accepted the position of interim director.
"The thing that is great about KBS right now is that our staff is far beyond anything we've had before, in both quantity and quality," said Conner. "It should be relatively easy for me to step into an interim role and maintain all of the good work that we are doing."
Conner's priorities as interim director are to facilitate the installment of the next director, bolster faculty, and engage with difficult topics, like sexual harassment and a lack of racial and ethnic diversity, for a more inclusive and equitable environment.
"What I think is great about KBS's response to the Nassar tragedy is that we have a culture and inclusion committee that includes representatives from staff, postdocs, faculty, and graduate students," he said. "This isn't coming straight from the director's office. The director's role should be to support and celebrate these efforts, but not to direct them. I think many people here at KBS and at Michigan State more broadly are really committed to making things better."