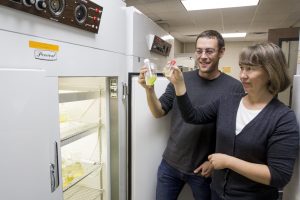 MSU/KBS aquatic ecologist Elena Litchman is leading a three-year, $993,000 project funded by the National Science Foundation (NSF) Division of Environmental Biology (DEB) in collaboration with the University of Texas at Austin (UT). The project aims to investigate and to predict intraspecific trait variation in phytoplankton. Christopher Klausmeier, an MSU theoretical ecologist, is a co-PI on the project.
The study will develop a theory for predicting trait diversity within species, along with laboratory experiments to determine the trait and genetic relatedness of phytoplankton species isolated from four lakes in southwest Michigan with different levels of nutrients, light and zooplankton predation.
"The diversity within species is important as it provides the potential for that species to adapt to novel conditions," said Litchman, who, along with Klausmeier, are MSU Foundation Professors in the College of Natural Science and faculty members at MSU's Kellogg Biological Station. "We know relatively little about how this diversity is generated and maintained in any ecological system. This project, by combining theory, field sampling and experiments will allow us to gain a better understanding of the mechanisms driving within-species diversity."
Read more about this collaborative project that also includes the Kalamazoo Area Math and Science Center (KAMSC).
Early this year Litchman and Klausmeier are also the recipients of a two-year, $360,000 NASA Astrobiology/Exobiology grant to fund research on modeling the evolutionary origin of diverse microbial metabolisms.