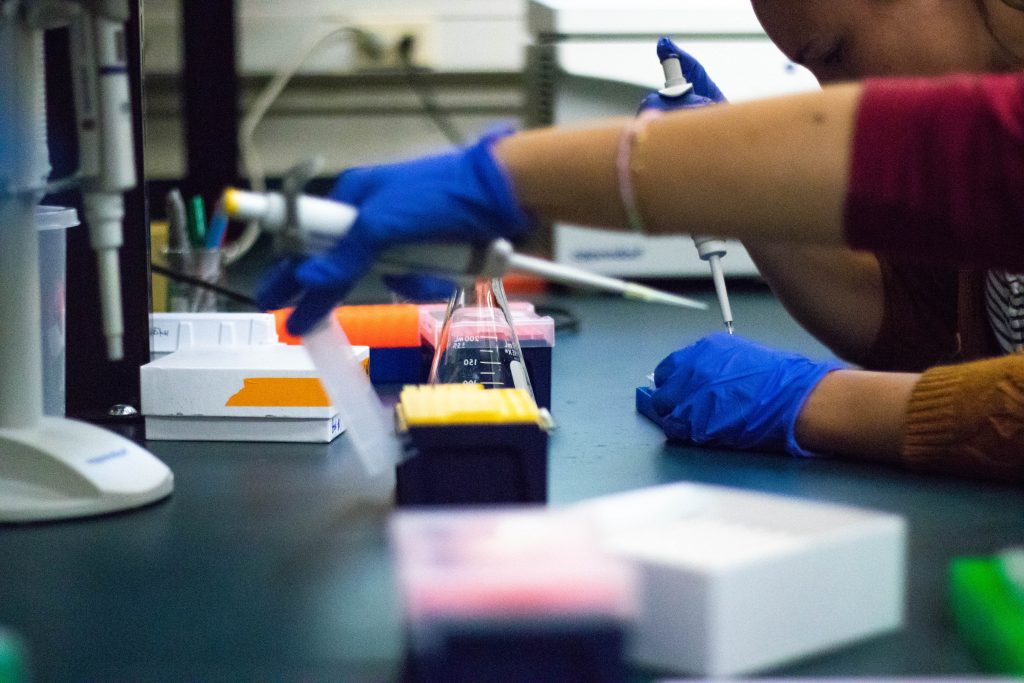 KBS has always been an excellent place to do research, but in the past year, its facilities' appeal has increased thanks to the establishment of the Molecular Ecology and Genomics (MEG) lab.
"The MEG lab supports the growing research and teaching conducted at KBS that involves molecular tools and bioinformatic analyses, replacing, and upgrading, a smaller electrophoresis lab that no longer met our needs," said principal investigator (PI) Sarah Fitzpatrick. "It advances the capability for research and teaching at KBS to incorporate cutting-edge genomic tools in their studies of ecology, evolution, conservation, and agriculture."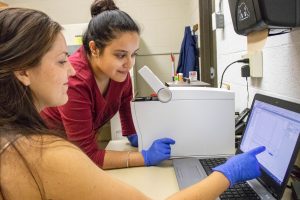 The MEG lab's equipment was funded in 2017 through a combination of MSU start-up funds and a grant from the National Science Foundation, written by PIs Fitzpatrick, Kay Gross, Sarah Evans, and Jeff Conner. Individual projects in the lab are supported through funding from agencies like NSF, the US Department of Energy, US Fisheries and Wildlife, and National Geographic.
Brendan Reid, a postdoctoral researcher, is working on Fitzpatrick's project on Arkansas Darters (small freshwater fish of conservation concern). Thanks to the addition of a Kingfisher DNA extraction robot earlier this year, he's able to process the more than 2000 samples of tissue from the fish much more efficiently.
Fitzpatrick, Conner, and Jen Lau are starting a project on genetic variability in plant responses to stress, and Reid is excited about the possibilities of that study and future studies using the new equipment.
"It's well equipped for basically everything you would need to do for a molecular ecology research project," said Reid. "Having the MEG lab as a resource will enable us to extract and process RNA for the large number of samples involved, which will provide a real concrete link between physiological responses and gene expression."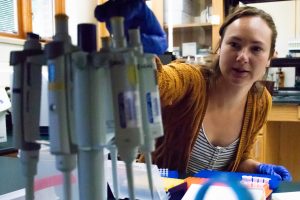 The MEG Lab is being used for a wide diversity of research topics, brought together by their methods regardless of species or system-based interests. In addition to the aforementioned two projects, Fitzpatrick is also working on a study predicting extinction risk of populations exposed to novel stress.
Conner is collaborating with other researchers to study fitness effects of loss-of-function mutations in duplicate genes, as well as the origins and adaptations of weedy and crop radish.
Evans has a collaborative project on microbial ecology and litter decomposition in the Namib desert, as well as the MMPRNT project on nitrogen transformations in the rhizosphere microbiome of switchgrass.
Anyone who uses molecular techniques or bioinformatics analyses as part of their research, from undergraduates to faculty members, could do research in the MEG Lab. A small bench fee will be charged to researchers for general supplies and equipment maintenance.
To learn more about conducting research at KBS, visit us online, or with specific questions about the MEG Lab, contact Sarah Fitzpatrick. Learn more on the MEG Lab webpage.